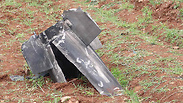 Syrian anti-aircraft missile
Photo: AFP
At least six members of the Syrian regime and its allies were killed Saturday in the Israeli Air Force strike in Syria, the Syrian Observatory for Human Rights said Sunday.

The report, which the organization announced via twitter, noted the deceased were "of Syrian and non-Syrian nationalities," but didn't elaborate further.

There were no casualties reported on the day of the attack, although Israel deemed the strikes an "operational success."

The IDF said Saturday it launched a large scale attack against Syrian aerial defense systems and Iranian targets in Syria.

"Twelve targets, including three aerial defense batteries and four Iranian targets that are part of Iran's military establishment in Syria were attacked," the military said in a statement.

Syrian SA-5 and SA-17 surface-to-air missile batteries were targeted, the IDF said, adding that the Iranian targets to be hit were in the vicinity of the Syrian 4th Armored Division.

According to the IDF Spokesperson's Unit, during the attack on the site from which the drone was launched, carried out by eight Israeli fighter jets, the Syrian army retaliated with widespread antiaircraft fire. Pilots of one of the fighter jets recognized antiaircraft missiles locking onto their plane, prompting them to eject.

Footage of drone's interception and the destruction of its operations trailer (צילום: דובר צה"ל)

The fighter jet crashed in an open area near Kibbutz Harduf. The police said the crash caused no casualties or damage in the community.

One pilot was seriously wounded, while the other was only lightly hurt. They were taken to the Rambam Medical Center in Haifa for treatment.

The IDF's strike was in response to an earlier infiltration into Israel of an Iranian drone originating from an airfield near Palmyra, Syria, which was successfully intercepted by an IDF Apache helicopter.