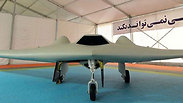 Photos published by the IDF Spokesperson's Unit on Saturday show the Syrian Tiyas Military Airbase from which the UAV that infiltrated Israel.

Also known as the T-4 Airbase and located in the Homs Governorate, north of Tiyas, the base has been used by Iran for the past few months.

"Iran and the Quds Force of the Revolutionary Guards have been operating there for a long time, backed by Syrian army forces and with the approval of the Syrian regime," the IDF Spokesperson's Unit said.

Iran has been using the base in recent months for the purpose of transferring weaponry to be used against Israel.

"These actions by Iran at the base are ostensibly carried out under the guise of supporting the fighting against the global Islamic jihad forces, but the actions carried out in the past 24 hours prove that its real concern is direct violent action against Israel," the IDF said.

"In the Iranian action, all the Israeli warnings against Iranian consolidation in Syria were realized. The attack was initiated and Israel was forced to respond first to the threat in its territory and then to the hostile elements operating from the Syrian territory opposite it."

Footage of the Iranian UAV that was shot down in Israeli airspace Saturxday shows it heavily resembles a US stealth drone that was downed in Iran in 2011.

After being captured in Iran, the United States asked for it back, but was refused.

US magazine The Aviationist reported the drone was a model the Revolutionary Guards presented two years ago, built on the basis of the Lockheed Martin RQ-170 Sentinel aerial reconnaissance UAV.

The model is called the "Beast of Kandahar" due to its activities in Afghanistan.

Iran reported that the UAV includes advanced intelligence gathering systems for electronic signals, images, communications and radar systems.

General Amir Ali Hajizadeh, of the Revolutionary Guards' Air Force and Aerospace Division, said at the time that the Iranian model "is easier, faster and consumes less fuel than its source."

The drone that infiltrated Israel spent about a minute and a half in Israeli territory after crossing the Israel-Jordan border.

"We'll study this UAV. This is the first time an Iranian drone has crossed into Israel and it is in our hands," said IAF Chief of Staff Brig. Gen. Tomer Bar, adding the army will take advantage of the opportunity to study the UAV.

Bar said the drone was shot down without imposing any risk to civilians. He added the ary is not yet sure whether it was intended for surveillance and intelligence gathering or for an orchestrated attack on Israeli civilians.

Yoav Zitun, Attila Somfalvi and Alexandra Lukash contributed to this report.