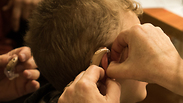 Syrian child receiving hearing aid
Photo: IDF Spokesman's Office
5 years later, Syrian wounded no longer surprised to be let into Israel
IDF continues providing medical assistance to Syrians arriving at the border seeking help, with the focus being on children. 'Only last year, we treated some 1,000 Syrian children,' Northern Command officer says; Ziv Medical Center to provide hearing aids and glasses to Syrian kids.
Despite mounting tensions between Israel and Syria in the wake of last weekend's border incidents, the IDF continued this week to provide medical care to seven Syrians who fled the fighting in the war-torn country.

Over the past five years, Israel has opened its gates to 4,071 Syrians who sought help from the country they were taught to hate.

It began five years ago, when several Syrians arrived at the Israel-Syria border and asked for medical assistance from the Golani troops who were stationed there at the time. Then-GOC Northern Command, Maj. Gen. Yair Golan, made the unprecedented decision to permit their entry.

Israeli doctors treat Syrian children (צילום: דובר צה"ל)

"I remember the first time the wounded Syrians came in," recounted Dr. Salman Zarka, the director of the Ziv Medical Center in Safed. "I just finished a term as the Northern Command's Chief Medical Officer, and I'm glad that when facing this dilemma, there were strong voices of doctors who supported bringing the wounded in."

After receiving life-saving treatment, these Syrians said they were convinced they would be shot dead by the IDF upon their arrival at the border, but decided to try and ask for help regardless out of desperation.

The IDF has decided to continue providing medical assistance to Syrians despite last weekend's incidents, which began when an Iranian drone, which took off from Syria, was shot down after infiltrating Israeli airspace. Israel retaliated with an attack on 12 targets in Syria, some of them Iranians. Syrian anti-aircraft missiles managed to shoot down one Israeli F-16 fighter jet, with both pilot and navigator bailing out over Israeli territory.

But while Israel will continue providing medical aid to Syrians even if an all-out war breaks out, the project will likely be reduced to only life-saving urgent cases.

Among the seven Syrians who came to Israel for help this week were two children and five adults, two of whom had suffered serious injuries to the head and chest, which necessitated urgent surgery while still at the border and subsequent evacuation to hospitals in northern Israel.

"We spare nothing in treating the Syrians. What IDF soldiers get, so do the Syrians - such as the blood units we gave the wounded Syrians last weekend," a senior Northern Command office told Ynet.

"They come at a rate of 3-4 wounded every week, but we don't bring in those we know we can't save, such as terminal patients or those in need of a transplant. Both because there's already a line for transplants in Israel and because without follow-up treatment, the body would reject the transplanted organ," he explained.

The Northern Command officer added the army also takes into consideration the timing and the availability of beds at northern Israel hospital.

"Our focus is in providing aid to children. Only last year, we treated some 1,000 Syrian children," the officer further noted.

Most of the wounded Syrians arrive from some 70 villages and towns in the central Syrian Golan - such as El Breika, Khan Arnabah and Quneitra - since the northern Syrian Golan is controlled by the Assad regime, while the southern Syrian Golan is controlled by ISIS. However, in recent months, Israel saw wounded and sick Syrians coming from as far as Damascus.

"There are no specialists on the other side, as most of them have fled. We got to talk to some who claimed to be doctors but turned out to be pharmacists or physiotherapists," the Northern command officer said. "The wounded come in civilian clothes, and are no longer surprised to be allowed in."
Hearing aids and glasses
In recent days, the Ziv Medical Center in Safed has started providing hearing aids to Syrian children who are deaf or hard of hearing. For some of them, their hearing worsened because of the loud bombings near their homes.

So far, five children have received these aids and can now hear sounds for the first time.

"It was amazing to see a Syrian child hearing something for the first time," said a Medical Corps officer from Operation Good Neighbor.

A total of about 100 Syrian children are expected to receive these hearing aids, which cost some NIS 5,000 for each ear, funded by Jewish billionaire Morris Kahn.

"A third of the Syrians children who came to us over the past year and a half have been suffering from hearing problems, and we realized it has mostly to do with the bombings, as well as with the fact there is a shortage of proper medical equipment in a country like Syria," explained Dr. Zarka.

"We were bothered by this. We turned to the army and we met with Kahn through the Genesis organization. It didn't take much to convince him to donate," Dr. Zarka added, noting some of the children would also have to undergo ear surgery.

In addition to the hearing aids, Syrian children with vision impairments will receive eye glasses, funded mostly by foreign donors.