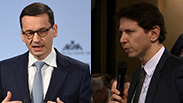 Ronen Bergman (R) and Mateusz Morawiecki
Photo: AP
In the name of my mother, the Holocaust survivor
Op-ed: The Polish PM sat comfortably on the Munich Security Conference's dais when a Yedioth Ahronoth journalist got up to ask him about the death camp law, but instead recounted the story of his mother who never forgot her fellow Poles' betrayal; 'Would I be considered a criminal in your country for speaking about this?' Ronen Bergman wondered; 'There were Jewish perpetrators in the Holocaust,' Morawiecki replied.
It was all unexpected and unplanned. Two of the world's youngest leaders were sitting on the stage at the main conference hall of Hotel Bayerischer Hof in Munich: Austrian Chancellor Sebastian Kurz and Polish Prime Minister Mateusz Morawiecki. Both are eloquent, sharp and very self-confident speakers.

I listened to the Polish leader talk about economy, energy and other Polish-related issues. He spoke about everything, apart from the issue everyone wanted him to address: The legislation prescribing prison time and a fine for accusing Poland and the Poles of taking part in the Holocaust. This legislation, which has created a major global controversy and sparked a lot of anger in Israel, wasn't important enough for Morawiecki.

During the question and answer session, I stood up to talk. I wanted to ask a general question about the law, but I was suddenly flooded with memories. My entire family, my late mother and my father and their families, experienced the Holocaust. Few survived. Most were killed. The Holocaust has been hanging over our heads as a big shadow our entire life.

We knew very little. Mother was a very modest person, but the few relatives who survived said she had been recognized as a prodigy at an early age. While in kindergarten, she had already received a special prize from the Polish education minister for "good Polish," but that's usually where the story ended. The relatives refused to say anything else, and mother kept silent too. "One day, I'll tell you more," she used to say to my sisters and me.

Throughout the years, mother made sure to serve as a separating buffer between the children and the memories from the horrors. All we knew was that grandmother and mother had escaped to the woods, joined the partisans and managed to survive the war. Grandfather, on the other hand, hid in sewage tunnels in his hometown and came out when the Gestapo had withdrawn.

And there was one more thing we always knew, that "the Poles were worse than the Nazis." It's something mother occasionally spoke about—the neighbors and parents of acquaintances from class, and the merchants, and those who worked for Jews.

From a historical perspective, I believe mother was wrong. Clearly, the Nazis were the ones who initiated the Holocaust, and they were the ones who built the death camps. But mother knew the Poles and this was her very personal and moral judgment of what had happened. There is no doubt that there were many Poles who risked their lives and saved many Jews. The names of some of them are engraved at the entrance to the Avenue of the Righteous Among the Nations at the entrance to Yad Vashem.

"They all betrayed us and turned us in to the Gestapo," she said. She and other family members, she told us, had paid a Polish peasant money to hide in his farm. "We were constantly hungry. It was starvation to the brink of death," she told me. "Although it was forbidden, one day I sneaked in to see if the landlords had anything to eat. They didn't see me, and then I heard those horrible words. They said they would call the Gestapo the next day to take us too."

Only years after she died, I found out that the story we knew about the sewage tunnels and the partisans and the meeting after the war was all true—apart from one detail: grandmother and grandfather didn't know each other before the war.

Morawiecki and Bergman's exchange

My biological grandfather escaped with grandmother and mother to the woods. He caught pneumonia there—or was wounded by German fire, there are two versions—and mother and grandmother buried him in the snow with their own hands.

Mother and grandmother, and a few other relatives who survived, spent the rest of the war in the woods, with the partisans.

The man I knew as my grandfather met grandmother and mother after the war. Two lost people in a destroyed world, one of them carrying a little girl with sad eyes. The other, our "Grandpa Yaakov," lost his entire family in one of the death camps. Two people who searched for comfort and found each other.

When grandmother met Yaakov, they decided to stick to each other. Together with mother, they decided to bury this secret in Europe. They immigrated to Israel in 1949 as one family unit, and told everyone how they had been forced to separate because of the Nazis and how they had met happily after the war.

Mother passed away in 1993, after battling cancer for 15 years. I believe that the horrors from back then, along with her stubborn attempt to serve as a buffer and not to tell us anything, to hold it all inside, not to talk, not to unload, were what eventually killed her.

Why didn't she tell us she had buried her real father in the snow? "She didn't want to be subject to anyone's pity," a relative of ours concluded when we learned the truth, years after mother's passing.

While still in Europe, mother swore to never say another word in Polish. And she kept that promise. She was willing to speak German, but Polish? Absolutely not.

I gave a summary of this story on Saturday to the audience at the Munich Security Conference and to the Polish prime minister, who gave me a hollow and blood-curdling look.

"My mother was able to save much of her family because she heard during the night that the neighbors were going to tell that they have Jews in their vicinity to the SS the next morning. If I understand correctly, after this law is legislated, I will be considered a criminal in your country for saying this. What is the purpose? What is the message that you are trying to convey to the world?"

When I was done, everyone applauded. Later, I was approached by senior German officials from different government organizations, who thanked me for saying what they are unable to say. But the Polish prime minister was neither confused nor impressed, and didn't even offer me any sympathy. He is faced by a man with a lump in his throat talking about how his family was exterminated in the Holocaust, and he stares as me at if he is examining some kind of nuisance.

"It's extremely important to first understand that of course it's not going to be punishable or seen as a crime to say that there were Polish perpetrators as there were Jewish perpetrators, as there were Russian and Ukrainian perpetrators, not only German perpetrators," he replied.

"There were no Polish death camps, there were no Polish concentration camps. There were German Nazi death camps. The mere fact that we have to explain it today stems from our history. We cannot agree with mixing perpetrators with victims."

These comments left me flabbergasted. My eyes were filled with tears of pain and rage. I was glad I had at least helped reveal his true colors with my question.

"I believe there is no better closure than what you did today for mother and the score she had to settle with the Poles. It's a shame she didn't get to see it," my sister, Liora Houbara, wrote me after watching the broadcast from the conference.

Dr. Ronen Bergman, a senior correspondent for military and intelligence affairs at Yedioth Ahronoth and a contributing writer for the New York Times, is the author of Rise and Kill First: The Secret History of Israel's Targeted Assassinations .