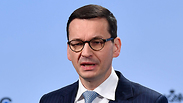 Prime Minister Mateusz Morawiecki
Photo: AFP
Polish PM: There were also Jewish perpetrators of the Holocaust
Prime Minister Mateusz Morawiecki tells Munich Security Conference it won't be punishable to say there were Polish perpetrators of the Holocaust 'as there were Jewish perpetrators, as there were Russian perpetrators, as there were Ukrainian; not only German perpetrators.'
Polish Prime Minister Mateusz Morawiecki was confronted Saturday afternoon with the story of Yedioth Ahronoth journalist Ronen Bergman's family—part of which was murdered during the Holocaust by Poles who assisted Nazis—and responded by claiming there were also "Jewish perpetrators" in the Holocaust.

Speaking at the Munich Security Conference, Morawiecki said it won't be punishable to say that there were Polish perpetrators under a controversial new law in the country outlawing public statements that falsely and intentionally attribute Nazi crimes to Poland under the German occupation

Morawiecki and Bergman's exchange

In a questions and answers panel taking place during the Munich Security Conference, Ronen Bergman said, "This is about the new law that you just legislated that forbids people from claiming that you had part in the genocide of my people.

"I come from Israel. I'm an Israeli journalist and a contributing writer for the New York Times. Sorry for being a little personal. Both my parents were born in Poland—my late mother and my father.

"My mother received a prize from the Polish Ministry of Education when she was five. Then the war started and they lost much of their (respective) families, because their neighbors—their Polish neighbors—snitched to the Gestapo that they were holding Jews.

"My mother was able to save much of her family because she heard during the night that her neighbors were going to tell that they have Jews in their vicinity to the SS the next morning.

"After the war, my mother swore that she would never speak Polish for the rest of her life, not even a single word. If I understand correctly, after this law is legislated I will be considered a criminal in your country for saying this. What is the purpose? What is the message that you are trying to convey the world? You are creating the opposite reaction and just attracting more attention to these atrocities."

Bergman received a round of applause for his his comments, and Prime Minister Morawiecki addressed his claims, surrounding the "Polish death camp bill" that created a diplomatic crisis between Warsaw and Jerusalem.

Morawiecki said, "It's extremely important to first understand that of course it won't be punishable or seen as a crime to say that there were Polish perpetrators as there were Jewish perpetrators, as there were Russian and Ukrainian perpetrators, not only German perpetrators.

"Polish embassies had to react 260 times in 2017 alone with regards to the expression 'Polish death camps' or 'Polish concentration camps.' Well, ladies and gentlemen, there were no Polish death camps or concentration camps. There were German Nazi death camps.

"The mere fact that we have to explain it today stems from our history. For 50 years after the Second World War—45 to be exact—we couldn't defend our case. There was no Polish independent state."

Morawiecki then went on to speak of the many Poles who paid with their lives for helping Jews. He said, "Anyone who wants to know what the German occupation on Polish soil (was like), I would invite to the discussion, to historical research, because this is something completely beyond your imagination.

"Many of you have probably heard about the Lidice village in the Czech Republic. In Poland we had 800 Lidice—800 villages completely annihilated, exterminated by German Nazis.

"In Poland—on Polish soil, I should have said, because there was no Poland during the Second World War—on Polish soil, this was the only place on Earth where all the families, all the neighbors, all the villagers were killed for helping our Jewish brothers and sisters.

"In Poland, we lost six million people during the Second World War—the highest percentage lost among all the nations on Earth. There is a book by Gunnar Paulsson, a Swedish-Canadian historian, who did a very through research on Warsaw during the Second World War—how many Jews were hiding in Warsaw and how many Polish families were helping those Jews.

"At least around 30,000 Jews escaped the Warsaw Ghetto and they were helped by three, four or five times more Polish citizens, even if this was under the threat of death for the whole family.

"We will not prosecute people who say there were Polish perpetrators, because there were Polish perpetrators, but we cannot agree with mixing perpetrators with victims. This would be an offense to all the Jews and all the Poles who suffered greatly during the Second World War."

Responding to Morawiecki's claims, Israeli politicians accused the Polish premier of anti-Semitism.

Yesh Atid Chairman Yair Lapid said Israel's ambassador to Poland should be recalled immediately in response to Morawiecki's comments Saturday in Munich. Lapid said his comments were, "Anti-Semitism of the oldest kind. The perpetrators are not the victims. The Jewish state will not allow the murdered to be blamed for their own murder."

Prime Minister Benjamin Netanyahu, who also attended the Munich conference, called his Polish counterpart's comment "outrageous."

"There is a problem here of lack of understanding of history and lack of sensitivity to the tragedy of our people," Netanyahu said, adding that he planned to speak with Morawiecki soon.

Labor Party leader Avi Gabbay, meanwhile, said Morawiecki spoke like any other Holocaust denier.

"The blood of millions of Jews cries from the earth of Poland over the distortion of history and the escape from blame. Jews were murdered in the Holocaust and Poles took an active part in their murder," Gabbay said. "The government of Israel has to be a voice for the millions of murdered and strongly denounce the Polish prime minister's words."

As written, the legislation calls for prison terms of up to three years for falsely attributing the crimes of Nazi Germany to Poland. The law takes effect 14 days after it's officially published, but it wasn't immediately clear when that will be.

Poland's authorities have described it as an attempt to protect the country's reputation from what it believes is confusion about who bears responsibility for Auschwitz and other death camps Nazi Germany set up in occupied Poland. They say it was modeled on anti-defamation laws in many other countries, including laws criminalizing Holocaust denial.

The proposed law has fueled a diplomatic crisis with Israel, which fears it would stifle discussion about the Holocaust and enable Poland to whitewash the role of the Poles who killed or denounced Jews during the German occupation of Poland during World War II.

Last week, Andrzej Zybertowicz, an adviser to Polish President Andzrej Duda, asserted that Israel's objections to the law stemmed from a "feeling of shame at the passivity of the Jews during the Holocaust" adding that Israel was "clearly fighting to keep the monopoly on the Holocaust."

"Many Jews engaged in denunciation, collaboration during the war. I think Israel has still not worked it through," Zybertowicz said in the interview published in the Polska-The Times newspaper.

The United States also strongly opposed the legislation, warning that it could hurt Poland's strategic relations with both Israel and the US.

After Duda signed it, US Secretary of State Rex Tillerson said the new law "adversely affects freedom of speech and academic inquiry."

Holocaust scholars and institutions strongly denounced the law as well, arguing that its unclear wording created the potential for abuse. Polish officials note that a provision in the law exempts historic research and works of art.

The Associated Press contributed to this report.