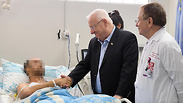 The pilot visited by President Rivlin
Photo: Mark Nayman/GPO
The F-16 pilot, who was shot down earlier this month by a Syrian anti-aircraft missile, was released Sunday from Rambam Health Care Campus in Haifa.

The pilot, a 35-year-old resident of central Israel, was seriously wounded in the incident, but left the hospital on his own two feet, appearing in good condition.

His jet was downed immediately after an IAF strike deep within deep in Syria against Iranian infrastructure, in retaliation to Iran's deployment of a surveillance drone within Israeli airspace.


The warplane crashed near the settlement of Harduf in the Jezreel Valley.

His co-pilot, a navigator, was lightly injured and released from the hospital hours later. He was not so fortunate, having to spend two days in the hospital's intensive care unit due to penetrating abdominal trauma.

He was later transferred to the surgery ward. His family and friends have been at his bedside since.

Prior to his release, the pilot met with the IDF soldier who was wounded last week in the attack in Jenin, where she accidentally entered with a military vehicle and was promptly assailed by an angry mob.

"She felt a little better after talking to him. It was a very important meeting for her," a source at Rambam said.