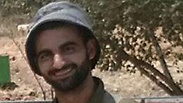 3rd Golani soldier succumbs to wounds sustained in Highway 6 crash
Staff Sgt. Shilo Siman Tov succumbs to his injuries and becomes 3rd victim in deadly accident involving truck hitting military jeeps travelling south on Highway 6, coming from a training exercise, preparing for operations; driver had 115 driving violations.
The number of soldiers killed in last week's deadly Highway 6 accident rose to three Monday after Golani combat soldier Staff Sergeant Shilo Siman Tov succumbed to his injuries at the Sheba Medical Center at Tel Hashomer. Staff Sergeant Bar Yakubian, 19, of Netiv HaShayara and Staff Sergeant Eshto Tespo, 21, of Petah Tikva were killed when a truck hit three military vehicles.

Uzi, Shilo's father, eulogized his son: "Shilo was a gift we had for 23 years. He was a special boy, always volunteering. Apparently God wanted him close." Shilo was named after his grandmother, Shula Abudraham, who was killed in a Petah Tikva terror attack in 1979.

"Immediately after the accident, we managed to talk and I told him that we will play basketball when he is released," added his father, "but then his condition deteriorated Friday. His buddies came to the hospital and performed Shabbat prayers there. But today we understood from the doctors that there was nothing left to do and Shilo will be with us no more."

Neria Abudraham, Shilo's cousin, added, "He was a happy person. He loved to help and volunteer. He was not even supposed to be there. He was granted leave but decided to stay with his army buddies."

The soldiers, serving in Golani's reconnaissance battalion, were part of a jeep convoy making its way south on the highway when they were hit by a truck. Ten soldiers were injured—one seriously, one moderately, and the others sustained light wounds.

They were returning from a routine training exercise in the north and on their way to a pre-operations training session in the center of the country. They were destined to begin operations in the northern West Bank this week.

The family of Staff Sergeant Tespo immigrated to Israel from Ethiopia 17 years ago. The father returned to his homeland and the mother remained in Israel with six children. Eshto's older brother found it difficult to talk about the tragedy and exclaimed in tears at his brother's funeral, "This is terrible, I am sorry for my brother who would help my mother in any situation, whether financially or with home chores."

The aunt of Bar Yakobian, Amalia, recounted how Bar finished high school a year and a half ago and was "a real fighter, he loved the army, was very motivated and always volunteered to be first. That was his nature and it was no wonder that he enlisted for combat duty. He was the only one who remained at home with his mother and the loss is very great," she said, deeply in pain.

At a hearing requested by police to extend the detention of the truck driver, Anour Abu Zina, 44, from east Jerusalem, it was revealed that he was previously cited for 115 traffic violations, including driving without a seatbelt and reckless driving.