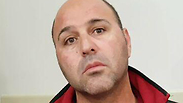 The Petah Tikva Magistrates' Court extended Wednesday the arrest of Anour Abu Zina, 44, of at-Tur in east Jerusalem, who is the truck driver involved in the car crash that claimed the lives of two Golani soldiers on Highway 6 Tuesday.

In the remand hearing, the driver claimed that the soldiers' vehicles were stopped in the middle of the road, whereas a police representative countered by saying the vehicles were in motion.

Judge Erez Melamed remanded Abu Zina by only a day, while the police sought to detain him for eight more days.

"I'm being treated like a terrorist," Abu Zina protested. "I was surprised by seeing the vehicles."

The driver's attorney, Tzafrir Yagur, said he met his client and that he claimed that, "The soldiers' vehicles were standing in the middle of the road rather than driving. Unfortunately, (authorities) are treating him very badly."

The police's representative to the hearing said it was a car accident with aggravated circumstances and a suspicion of manslaughter was being looked into. "The truck driver was driving 90 kilometers per hour (on a road where the speed limit was 120) and the soldiers were stopped rather than moving," he said.

Judge Melamed noted during the hearing Abu Zina had 115 prior traffic convictions, including driving without a seatbelt and driving dangerously.

Yagur then blasted the police, saying, "I've never heard of soldiers leaving a scene and discharged from a hospital without their testimonies being collected."

Abu Zina's brother said, "Our condolences go out to the soldiers. My brother is a cautious driver. It's the first time he was involved in an accident like this. He was just surprised by the vehicles on the road. He called us right after the accident to say he was involved in it, but was cut off."

The driver's brother then wished to stress the incident was not a terrorist attack. "My brother respects everyone," he said, "and does not distinguish between Arabs and Jews. He is a married father of six and works to support his family. I hope he is released so he can return to them."

Staff Sergeant Eshto Tespo and Staff Sergeant Bar Yakubian, both Golani soldiers, were killed in the fatal crash and were laid to rest earlier Wednesday.

Tespo's family made Aliyah 17 years ago. His father returned to Ethiopia, but his mother remained along with her six children.

Gatant, Eshto's older brother, found it hard speaking of the calamity that befell his family. "It's an enormous disaster," he said tearfully. "I'm rueful for my brother, who would help my mother and give her money and help with the housework any opportunity he had."

Bar's aunt, Amalia, said that her nephew had joined up 18 months ago after graduating from a high school in the Western Galilee. "A true fighter," she said. "He loved the army, always ran ahead and volunteered to go first. It was part of his character and it was no wonder he was assigned to a combat unit."

The combat soldiers were making their way from a periodic exercise in the north to another exercise in Central Command's training base, in preparation for undertaking various missions in the West Bank starting next week.

An initial inquiry turned up that the three military vehicles involved in the accident were driving slowly along the road, whereas the truck driver seems to have lost control of his rig and crashed into them.