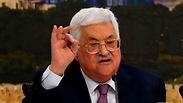 Abbas calls for int'l peace conference by mid-2018
Addressing UN Security Council, PA president slams US 'illegal' decision to recognize Jerusalem as Israel's capital, demands UN recognize 'State of Palestine as a full UN member'; Israel's Envoy Danny Danon: 'Mr. Abbas, you are not part of the solution. You are the problem.'
Palestinian Authority (PA) President Mahmoud Abbas called Tuesday for an international Middle East peace conference to be convened by the middle of 2018, and slammed US President Donald Trump's "illegal and dangerous decision" to recognize Jerusalem as Israel's capital.
Addressing the United Nations Security Council, Abbas said that Trump "removed Jerusalem from the table for no reason," adding that "Israel is acting as a state above the law."
"We call for an international peace conference by the middle of 2018 that will accept the State of Palestinian as a full UN member," Abbas said. "We call on the Security Council to do this."
There is no conflict in which others do not intervene, he added. "We also demand this—other officials in the international community, an international conference that responds with international legitimacy.
"It has become impossible today for one country or state alone to solve a regional or international conflict," Abbas said. "It is essential to establish a multilateral international mechanism emanating from an international conference."
The Palestinians no longer view Washington as a neutral negotiator and have been calling for a collective approach to try and broker Middle East peace. In addition to anger over Trump's embassy decision in December, they are also furious over his decision to cut US funding for the UN agency that helps Palestinian refugees (UNRWA).
"Our position is clear," he began. "We refuse to use weapons of any kind. We call not only for disarmament of nuclear weapons but also of conventional weapons. We continue to spread the word of peace. We refuse to engage in violence and are building schools and hospitals, industrial areas and agriculture. We are not purchasing tanks and planes.
"For the price of a tank a school can be built and a new generation. This is better than any kind of weapon. We fight against terror everywhere in the world," Abbas claimed.
He said that Israel had turned the issue of settlements from a temporary situation to permanent colonization.
"How can this be? Israel closed the door on a two-state solution," he said. "Our problem is not with Jews who believe, but only with the occupiers of our land and those who prevent us from independence and liberty."
Addressing the Security Council immediately after Abbas was Israel's UN Ambassador Danny Danon.
"Mr. Secretary-General. I expected Mr. Abbas to stay with us and have a dialogue. Unfortunately, once again he is running away," Danon began.
"Look what just happened in this room. Mr. Abbas came in, he put his demands on the table and he is expecting you to deliver the results. It's not going to work that way.
"Today once again, rather than driving just 12 minutes between Ramallah to Jerusalem, he has chosen to fly 12 hours to New York to avoid the possibility of peace," Danon said as he scolded Abbas for what he said was a persistent refusal to engage in peace talks with Israel.
"Mr. Abbas, you have made it clear, with your words and with your actions that you are no longer part of the solution. You are the problem," he said to Abbas, despite the fact that he had left the chamber in protest at the beginning of Danon's remarks.
Israeli Envoy Danny Danon slams Abbas (צילום: רויטרס)
Continuing his response to Abbas's scathing remarks, Danon refuted his claims that peace was his ultimate goal, or the improvement of Palestinian lives. "What have you done to better the life of a single person in Ramallah or Gaza?" he asked. "They need leadership that will negotiate with Israel, speak to us, and not run away from dialogue."
Danon also sought to highlight the contrast between Abbas's peddling of the mantra of peace in international forums with his more combative stance in Arabic conferences.
"...You spoke about your commitment to peace, This is what you often do when you speak to international forums. But when you speak to your people in Arabic, you convey a very different message," he accused Abbas, before citing recent past examples of when Abbas had claimed that Zionism was a colonialist project and that how he said Jews supported anti-Semitism to promote Zionism.
"This is not the first time you have used such hateful language," he added, quoting Abbas's comments last September in Ramallah in which he said Israelis have "no right to desecrate" Islamic and Christian sites in Jerusalem "with their filthy feet. We won't allow them to do so and we will do whatever we can to defend Jerusalem."
Danon further quoted Abbas's incitement during the same speech when he said: "Each drop of blood that was spilled in Jerusalem is pure blood as long as it's for the sake of Allah. Every shahid (martyr) will be in heaven and every wounded person will be rewarded, by Allah's will."
Turning to Abbas once again, Danon accused him of fomenting hatred among Palestinians. "Mr abbas, you inspire hate in Palestinians society … You encourage children to hate," he said. "Just this month your Fatah movement praised the terrorist who killed Rabbi Raziel Shevah."
Insisting that Abbas's incitement does not end with rhetoric, Danon accused him of spending millions of dollars amounting to 50 per cent of money for Palestinians on paying terrorists. "This is money you could have spent on building 40 hospitals, 142 schools every year" and lamented that "you look to every possible forum because you don't want to actually negotiate with Israel."
"One thing is clear," he concluded. "When we extend a hand, Abbas extends a fist."
US Ambassador to the United Nations Nikki Haley told Abbas that US negotiators were "ready to talk, but we will not chase after you."
Trump's son-in-law and senior adviser, Jared Kushner, and US Middle East envoy Jason Greenblatt sat behind Haley at the Security Council meeting. Kushner and Greenblatt are working on a new Middle East peace plan.
"Our negotiators are sitting right behind me, ready to talk. But we will not chase after you. The choice, Mr. President, is yours," Haley said. Abbas did not stay in the council chamber to listen to her.
"I sit here today offering the outstretched hand of the United States to the Palestinian people in the cause of peace," she said.
She said she was "sorry" Abbas left immediately after his speech, but told council members she would address him anyway.
The Palestinian leadership has a choice of two paths—"absolutist demands, hateful rhetoric, and incitement to violence" which will only lead to hardship for the Palestinian people or "negotiation and compromise" that holds the promise of peace, Haley said.
Though Kushner and Greenblatt didn't meet Abbas, they did meet informally behind closed doors with Security Council members.
Russia's UN Ambassador Vassily Nebenzia said afterward without elaborating: "something is cooking."
Equatorial Guinea's UN Ambassador Anatolio Ndong Mba called the fact that they came to the council "very, very important" and "a good sign." But he said council members "haven't received any details" of the US proposal for Palestinian-Israeli peace.
Prime Minister Benjamin Netanyahu later dismissed Abbas's words, deriding them as repeated falsehoods. "Abbas said nothing new. He continues to run away from peace and continues to pay terrorists and their families $347 million," he wrote in a press statement.