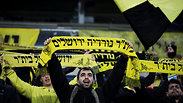 Betar Nordia supporters
Photo: Reuters
Soccer-fans of Jerusalem club fed up with racism form new outfit
Fans of Premier League side Beitar Jerusalem, fed up with other fans' racist, violent ways, break away to form upstart club free of negative aspects of fan culture; new club, Betar Nordia Jerusalem, plays in Israel's third league; 'Betar Nordia is the only Israeli club I know that has formed to fight racism,' says club skipper Zion Zaken.
A group of Jerusalem soccer supporters who were fed up with the behavior of their fellow fans have turned their backs on the club they followed and set up a friendlier, more tolerant outfit.

Around 4,000 fans who were previously loyal to Beitar Jerusalem, one of Israel's biggest and best supported clubs, have broken away to follow Betar Nordia—formed by a small group of them four years ago.

Betar Nordia Jerusalem, the fan-owned football team

Beitar Jerusalem is a bastion of Israel's political right-wing and a group of their supporters—known as La Familia—has been openly hostile and violent towards fellow fans. Israel's Arab minority has been the main object of their hatred.

While Beitar's players have worked to deliver success on the pitch, the club's La Familia supporters have often frustrated those efforts through their misconduct.

The club has faced disciplinary action, including fines and points deductions, and even had to play matches behind closed doors for offenses including fan violence, the use of flares, pitch invasions and racist chanting.

Unlike almost all other Israeli soccer clubs, Beitar have never employed an Arab player.

Nordia, who have adopted the same yellow and black strip and the same team emblem, have a completely opposite attitude and have fielded four Arab players since they were founded and even have Arab fans.

Team captain Zion Zaken, a former Beitar player, said the Nordia setup was unique because of its drive against racism and violence.

"Betar Nordia is the only Israeli club I know that has formed to fight racism. Elsewhere, fans have rebelled because they didn't like the way their team was run but Nordia is unique," he told Reuters.
Third division minnows
Now making a bigger effort to curb fan violence after another incident last month, Beitar ordered the east stand at Jerusalem's Teddy Kollek Stadium, where the most fanatical supporters sit, to be closed until further notice.

"The club feels disgusted by the violence, and even more so, by the racism and from now on it will battle those fans who wantonly harm the club," said part of a Beitar statement after their 4-2 home victory over Israeli-Arab outfit Bnei Sakhnin.

Aviv Sharfstein, a member of Nordia's management, said the new club hope one day to persuade the violent Beitar fans to abandon their militancy so that the two clubs could perhaps merge.

This appears unlikely in the short term, however, as Beitar have a far larger fan base and are Premier League high flyers while Nordia are relative upstarts and third division midtable minnows.

Sharfstein said Nordia's supporters felt alienated because of the Beitar fans and the only course open to them was to form a separate club.

"We could no longer agree to hear the club narrative when fans used violence and displayed their racism by shouting 'Death to Arabs'," he said.

"We felt we were going to matches alongside criminal organizations, they even used violence against us, the ordinary fans."

Taer Zaro, a resident of the Palestinian neighborhood of Beit Hanina in east Jerusalem, who is studying physical education at Israel's Wingate Sports Institute, said he was happy to support Nordia and had found conviviality among his fellow fans.

"I was a supporter of Beitar Jerusalem when I was a boy and I only cared about the play on the pitch, I was not interested with what the racist fans were saying but I moved to support Nordia because I didn't want any part of the racism," Zaro said.

Elite Mazeh, a mother of three and also a member of the team's management who regularly takes her young children to games, said the club was open to all players.

"At Nordia racism and violence do not exist. We accept anyone, including Muslim players," she said.

Zaken, 36, said he was happy to end his playing days at the club.

"The Nordia crowd are a positive group. I didn't know that there was such a good fan base when I played at Beitar and I'm happy to be part of it. The negative influence of La Familia is totally eclipsed by the positive fans here," he said.