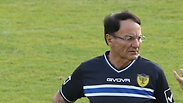 Eli Cohen
Photo: Amit Shabi
Betar Jerusalem professional advisor fired after pledging not to sign Arab
Eli Cohen, professional advisor for Betar Jerusalem soccer club, fired just ten days after appointment following interview saying he would not sign Arab player; the club, considered to have some far-right supporters, has never fielded an Arab player.
Israeli soccer team Betar Jerusalem has decided to part ways with the club's professional advisor Eli Cohen following an interview he gave Wednesday saying he objects to the team signing an Arab player.

Cohen was called into a talk with the owner's representative Eli Ohana, in which he was informed both he, as the holder of the club's managerial rights, and owner-in-absentia Eli Tabib, have decided on his termination.

Cohen's fourth term in the club is by far the shortest. In fact, it lasted only ten days from the moment of his official appointment as the team's advisor until he was let go.

"Eli Ohana met with professional advisor Eli Cohen following his remarks in the interview," a club spokesperson said. "Cohen apologized to Ohana and offered his resignation. In light of his remarks, Ohana accepted."

Ohana faced tremendous pressure to let Cohen go, partly from the President's Residence after the club won its "trailblazer award" only a month ago for its supposed fight against racism in the club, widely considered to have virulently racist supporters. Ohana apologized to President Reuven Rivlin for Cohen's interview.

"I'm a realist," Cohen had said. "I experience firsthand what happens with the arrival of Muslim players five years ago—an affair in which previous owner Arkadi Gaydamak brought in two Chechen players to Betar, causing a huge protest to erupt among some of the team's supporters—and will therefore not be looking to sign an Arab player."

"I've had a lot of Arab and Muslim players in teams I managed in the past," he remarked. "Anyone stupid enough to label me a racist because of what I just said can say what he wants."

The former coach was asked about the arrival of the Chechen players, Zaur Sadayev and Dzhabrail Kadiyev, and whether he would have brought them on the team in retrospect. "Absolutely not," he replied. "It torpedoed my season and tore apart a team in the running for a championship. In hindsight, it was like a person shooting himself in the head, you have to be completely stupid to have done it."