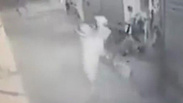 Image from security camera
Accidental gas inhalation may have killed Jericho terrorist
IDF's Criminal Investigation Division considers possibility that the knife, bar-wielding Palestinian terrorist who charged at group of soldiers in Jericho before being shot, beaten, may have in fact died as a result of inhalation of potentially lethal gas during riot dispersal operation; soldiers maintain he posed a life-threatening danger.
The military Criminal Investigation Division (CID) has launched an probe into the possibility that the death of a Palestinian terrorist who charged at an Israeli force before being shot Thursday was caused by accidental inhalation of gas during a riot.

The incident, which took place during an IDF operational activity in the West Bank city of Jericho, was captured on CCTV and showed a soldier beating Yassin Omar al-Saradih with his rifle before he succumbed to his wounds.

The soldiers who were involved in the incident are expected to be investigated on Sunday.

Footage circulated by Palestinians in Jericho

According to the initial investigation, during the IDF operations around 50 Palestinians began rioting by throwing rocks, rolling burning tires and hurling Molotov Cocktails at the soldiers.

During the violence, al-Saradih ran toward the soldiers brandishing a metal bar, prompting them to open fire on him.

"In response to the immediate threat, the troops fired towards the assailant and confronted him from close range and were able to stop him," the IDF said.

"A knife was also found in his possession. Troops evacuated him to a hospital to receive medical treatment. His death was later announced. The incident is being reviewed."

Before being evacuated, the soldiers used force when he tried to steal the weapon of one of the troops. After being arrested and checked by the medics, the Palestinian was said to be in fair condition.

It later emerged during the investigation that the soldiers continued to use riot-dispersal techniques against the protesters near the spot where al-Saradih was handcuffed, leading investigators to consider the possibility that he was exposed to potentially fatal gas.

Al-Saradih's condition was said to have deteriorated and he was evacuated and treated by IDF soldiers who eventually pronounced his death.

After the incident and due to the fact that the terrorist was killed after being arrested by IDF soldiers, the CID launched an investigation which sought to ascertain through an autopsy the precise cause of his death.

Male and female soldiers belonging to the military unit responsible for the area claimed during the initial investigation that they believed that al-Saradih posed life-threatening danger, forcing them to use force after he attempted to snatch their weapon.

The family of the man, however, claimed that he was violently attacked by the soldiers who arrested him and that he was taken from his home.

According to Palestinian assessments, he died as a result of the blows that he received from one of the soldiers. His family also emphasized that he suffered from no medical issues.