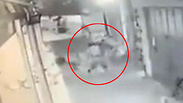 Image from security camera
Palestinians say Jericho man beaten to death by IDF soldiers during arrest
Palestinian documentation shows Yassin Omar al-Saradih running with an object in his hand towards an Israeli force that arrived to arrest him, before being knocked down and beaten with a rifle by one of the soldiers; IDF says man was shot after trying to attack soldiers.
A Palestinian man was killed early Thursday during an IDF operational activity in the West Bank city of Jericho.

Footage from a security camera that captured the incident shows the man, Yassin Omar al-Saradih, running towards the Israeli force and being shot.

At the end of the video, a soldier is seen beating the Palestinian with his rifle before he succumbed to his wounds.

Dcoumentation distributed by Palestinians in Jericho

The IDF Spokesperson's Unit said in response: "A violent disturbance developed during an activity in search of wanted men in the city of Jericho, in which a terrorist armed with an iron rod ran towards an IDF force and tried to attack the soldiers.

"In response to the immediate threat, the troops fired towards the assailant and confronted him from close range and were able to stop him," the IDF said.

"A knife was also found in his possession. Troops evacuated him to a hospital to receive medical treatment. His death was later announced. The incident is being reviewed."

The Palestinian Information Ministry said about 20 soldiers had administered a "heavy beating" to al-Saradih, especially on his stomach and back.

"The Information Ministry views (his) martyrdom ... shortly after his arrest a cold-blooded execution," it said.

Al-Saradih's family members also claimed he was violently attacked by soldiers who arrived to arrest him and was taken away from his home. The family is seeking to have an autopsy performed.

Reuters contributed to this story.