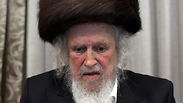 Rabbi Auerbach
Photo: Ohad Zwigenberg
The leader of the radical Jerusalem Faction of the Lithuanian ultra-Orthodox sect, Rabbi Shmuel Auerbach, passed away early Saturday morning. He was 86.

Rabbi Auerbach led his group's aggressive struggle against the enlistment of yeshiva students into the IDF and the arrests of Haredi draft dodgers.

His funeral will take place Sunday at 11:00 am.

At the end of Shabbat, masses of his followers gathered at the Ma'alot HaTorah yeshiva—which he headed—in the Sha'arei Hesed neighborhood in Jerusalem, where he resided for most of his life.

Outside his home, his students were seen tearing up their shirts in grief and crying.

In recent years, Rabbi Auerbach has distinguished himself from the mainstream ultra-Orthodox sector mainly by means of an uncompromising fanatical battle against the "draft law."

In the run up to the last Knesset elections, he called on the ultra-Orthodox to refrain from voting, as opposed to in previous elections.

He objected to any negotiations between representatives of the sector and the Shaked Committee for Equal Sharing of the Burden, objected to their pragmatic approach on enlistment, and ordered yeshiva students not to report to the conscription offices at all—nor to seek deferment of their IDF service.

As a result, several of them were arrested, which prompted thousands of Haredim across the country to hold violent demonstrations in Jerusalem, Bnei Brak, Beit Shemesh, Safed and Modi'in for several days in a row, blocking traffic and clashing violently with both police and drivers.

While the Jerusalem Faction is a relatively small group and not represented in the Knesset, it still holds considerable public power, which was expressed in those demonstrations.

Dozens were arrested during the protests, while policemen were forced to use riot control and disperse demonstrators by force. Chants for "death before enlistment" and epithets hurled at officers, such as "Nazis," became commonplace at such disturbances.

At the time, Auerbach called on his people to continue the fierce protests against the arrest of the deserters. The rabbi was quoted as saying: "We must fight to the last drop of blood."

"The only right of the State of Israel to exist was by virtue of the fact that it supported the Torah scholars and housed them," Auerbach asserted. "Now we are worried about its continued existence. We will fight and struggle without end."