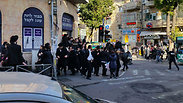 Haredim riot against draft dodgers arrests
Photo: Eli Mandelbaum
Dozens of Haredim staged a demonstration on Monday afternoon at Jerusalem's Shabbat Square in protest against the arrest of IDF defectors from their community.

The protesters hurled a flurry of verbal insults at police stationed nearby, and accused them of being "Nazis." As a result, major intersections in the area were closed down.

Haredim riot in Mea She'arim (צילום: אלי מנדלבאום)

Traffic police began directing traffic to alternative routes, while officers on horseback began removing the protestors.

An hour earlier, a police officer was lightly injured when a rock was thrown at him by a Haredi group gathered in the ultra-Orthodox neighborhood of Mea She'arim. He was transferred to Hadassah Medical Center Har Hsofim for treatment.

The police issued a statement following the incident, saying that it will "use a strong hand against all those who break the law and who harm law abiding citizens acting to moderate public services provided by the police. The police have identified the rock throwers, and it will move to arrest and bring them to justice by all means at their disposal."