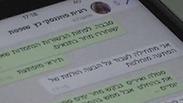 Text messages exchanged between the judge and attorney
Photo: Channel 10 News
A day after an exchange of text messages between a Tel Aviv Magistrate's Court judge who presided over the remand extensions in the Bezeq Affair (also known as Case 4000), Ronit Poznanski-Katz, and the attorney who represented the Israel Securities Authority (ISA), Eran Shacham-Shavit, raised suspicions of coordination between the two in the case, Channel 10 News released the full conversation on Monday.

In the wake of the release of their conversation on the WhatsApp messenger app, Poznanski-Katz was replaced by Judge Alaa Masarwa. Both the judge and the attorney face a disciplinary probe, with Poznanski-Katz's conduct being investigated by the Ombudsman for Complaints against Judges, while Shacham-Shavit's actions are being investigated by the Civil Service Commission.

Attorney Oded Svorai, who represents Shacham-Shavit, said his client has decided to take a leave of absence until the end of the probe in the Civil Service Commission.

"Attorney Shacham-Shavit is a professional, respectable and principled lawyer, who does his work faithfully and with complete devotion. His entire conduct vis-à-vis Judge Poznanski-Katz has been professional and within the acceptable and legitimate framework of an investigative authority's conduct in relation to remand extension judges, which is unlike the conduct in relation to judges in the trial itself," Svorai said.

"Contrary to the erroneous impression created due to the report last night, attorney Shacham-Shavit had updated the judge, whose moderate position on the suspects' detainment period—which she expressed in court hearings—gained favor with the special investigations team. He also said to the judge he was happy to tell her that in a few minutes she would receive a message from his colleagues at the special investigations team—investigators from Lahav 433—that they have decided to release two of the suspects," Svorai went on to explain.

"As for the request to extend the remand of two additional suspects, attorney Shacham-Shavit updated the judge that his colleagues are expected to request a remand extension of three days, however he, as a representative of the Israel Securities Authority, believes two days are enough."

ISA Chair Anat Guetta convened the ISA investigators for a meeting following the incident.

Guetta claimed that it isn't representative of the values of the ISA, but stressed that, while unusual, it is a serious incident that must not repeat. "It must not happen, but it happened. The matter is currently under review. And we, of course, will also draw the necessary conclusions," she said.

She concluded by noting that the incident "in no way undermines the excellent investigation carried out by our Investigators in the Bezeq affair and the findings obtained within it."