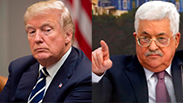 President Trump (L) and PA President Abbas
Photos: AFP
Palestinians, Europe pressure Trump over state on 1967 lines
European countries reportedly in communication with President Trump's administration on behalf of Palestinians over making changes to US peace plan; two-state solution based on 1967 borders reportedly sought by Palestinians, Europe; chances of Americans taking into account all European requests low, say diplomatic sources.
European countries have held talks with President Donald Trump's administration—at the Palestinian Authority's behest—in an attempt to change the American peace plan, reported the pan-Arab Al-Hayat newspaper Thursday morning.

Palestinians are reportedly demanding the Trump peace plan be based on the two-state solution predicated on the 1967 borders and east Jerusalem as the Palestinian capital.

Western diplomatic sources confirmed talks between the Washington administration and European countries were indeed taking place, but said chances were low of the Americans taking into account all of the Europeans' demands regarding the peace push.

Unrelated to the Al-Hayat report, Palestinian Foreign Affairs Minister Riyad al-Maliki affirmed Palestinian appeals were made to the European Union to intercede with Trump's plan and ensure principles important to the Palestinians be included in it, including freezing construction in the settlements.

London-based pan-Arab newspaper Asharq Al-Awsat reported Wednesday, citing diplomatic sources in France, that the US peace plan did not rule out east Jerusalem as Palestinian capital, but conditioned it on the Old City being under international rule.

It was further reported the peace plan envisioned a demilitarized Palestinian state with limited sovereignty whose borders are not based on the 1967 lines.

With regards to Palestinian refugees, the plan calls on them to remain where they are and receive compensation. In addition, the Jordan Valley will remain under Israeli sovereignty and large settlement blocs will remain in place, while "small" settlements will be transferred, although it is unclear to where.

At a later stage, the Palestinian Authority will receive additional security and administrative powers in Areas A and B of the West Bank, according to the plan. Israel, however, will maintain responsibility over security on the borders, while in Gaza, Egypt will be involved.

The plan includes $40 billion in US aid towards the establishment of a Palestinian state and its institutions.
US-Palestinian ties hit all-time low
The Trump administration's relations with the Palestinians have hit rock bottom when the American president recognized Jerusalem as Israel's capital and announced plans to move the US embassy there.

President Trump's speech on Jerusalem (צילום: רויטרס)

In his now-famous December speech, Trump said that, "The United States remains deeply committed to helping facilitate a peace agreement that is acceptable to both sides. I intend to do everything in my power to help forge such an agreement. Without question, Jerusalem is one of the most sensitive issues in those talks. The United States would support a two-state solution if agreed to by both sides."

Following the speech, riots broke out in numerous places in Jerusalem, the West Bank and near the Gaza border, which have been ongoing since—especially after traditional Friday prayers.

At the height of the conflagration, Palestinian Authority President Mahmoud Abbas attacked President Trump, who claimed he intended to cut American aid to the Palestinians over their intransigence to cooperate in peace negotiations. "I see a tweet on Twitter," Abbas said and quoted, "'We will not give the Palestinians money because they refuse to negotiate.'"

Cursing the president, Abbas said, "May your house come to ruin (an Arabic epithet—ed). Where did you offer that to me? On the phone? On television?"