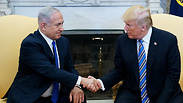 Netanyahu and Trump meet at the Oval Office
Photo: AFP
Trump says may come to Israel for Jerusalem embassy opening
At White House meeting with Netanyahu, US president insists Jerusalem declaration 'gives us a real opportunity to peace' and asserts Palestinians are ready to return to negotiating table; Netanyahu also optimistic, saying 'Israel has never been closer to the Arab states. And we seek also to broaden that peace to the Palestinians.'
US President Donald Trump told Prime Minister Benjamin Netanyahu during a meeting at the White House Monday that he may come to Israel for the opening of the
new American embassy in Jerusalem
.
Trump asserted that decision to move the US embassy from Tel Aviv to Jerusalem "was a wonderful thing, and I know it was very much appreciated in a big part of the world, not just in Israel."
"That was a decision I had to make. Many presidents were discussing whether or not to make that decision, and they promised this in their campaigns, but they never were able to do what they should have done," he asserted.
Trump and First Lady Melania welcome Netanyahu to White House (צילום: רויטרס)
Netanyahu thanked Trump for Washington's decision to recognize Jerusalem as the Israeli capital and move its embassy to the holy city. "This is the first time we meet in Washington, America's capital, after you declared Jerusalem as Israel's capital. And this was a historic proclamation, followed by your bold decision to move the embassy by our upcoming national independence day," Netanyahu told Trump.
"I want to tell you that the Jewish people have a long memory," the prime minister continued, detailing other important decisions in the history of the Jewish people. "This will be remember by our people throughout the ages," he determined. "Others talked about it, you did it."
While Trump's plan to move the US embassy from Tel Aviv to Jerusalem this year has brought the two leaders closer together, it has infuriated the Palestinian leadership and was condemned by 128 states in a United Nations General Assembly vote in December.
The issue has also caused a widening rift in US public opinion. A survey in January by the Pew Research Center showed that 79 percent of Republicans were more sympathetic towards Israel than the Palestinians, against just 27 percent among Democrats.
The Middle East peace process grew even more complicated recently after Jared Kushner, the president's son-in-law and one of his senior advisers, lost his top-secret security clearance.
But Netanyahu sounded optimistic about the peace process, noting that "the Arabs have never been closer to Israel; Israel has never been closer to the Arab states. And we seek also to broaden that peace to the Palestinians."
Trump himself was also confident of the chances to reach peace between Israel and the Palestinians, asserting that "If we could do peace between Israel and the Palestinians, that would be a great thing for the world, that would be a great thing for this country, and a great thing for everybody."
The American president further insisted that by recognizing Jerusalem as Israel's capital, "We've taken (the dispute over Jerusalem) off the table. So this gives us a real opportunity to peace."
He was also hopeful that "the Palestinians, I think, want to come back to the table. If they don't, you don't have peace. That's a possibility also. I'm not saying it's going to happen."
The two leaders were also expected to discuss efforts to curb the regional influence, which Netanyahu described as the "greatest challenge in the Middle East."
"Iran is not giving up its nuclear ambitions. It came out of this nuclear deal emboldened and rich. It is practicing aggression everywhere, including on our own border, and I think we have to stop this country that chants 'Death to Israel, Death to America.' Iran must be stopped," the Israeli premier stressed.
At the outset of their meeting, Trump also boasted "the best relationship right now with Israel that we've ever had. I think it's closer now than maybe ever before," saying the two countries were "very close on trade deals, we are very very close on military and terrorism."
Netanyahu echoed Trump's sentiments, saying, "I've been here for nearly four decades with, talking, seeking to build the American-Israel alliance. Under your leadership, it's never been stronger. And the people of Israel see your position on Jerusalem. They see your position on Iran. They see your magnificent defense of Israel and the truth in the United Nations. And I as prime minister see something that you as president see, but others can't see. It's the extent of our intelligence and other cooperation in matters that are vital for the security of both our peoples."
AFP contributed to this report.