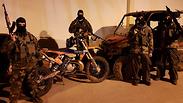 The mock Hezbollah combatants
Photo: Yoav Zitun
Civilians portray Hezbollah terrorists for 1st time in IDF drill
Some 50 ex-combat soldiers learn Hezbollah's combat doctrine to portray fighters from Lebanese Shiite group in IDF exercise; in last Paratroopers brigade exercise, they succeeded in kidnapping two IDF soldiers without alerting the rest of the force.
A Paratroopers Brigade training exercise held several weeks ago staged, for the very first time, Hezbollah combatants attacking an IDF force were played by outside actors rather than soldiers, after an initial pilot held during Northern Command's wide-scale drill last year.

Some 50 young civilians, who have served in a variety of combat units—including infantry, combat engineering and elite Artillery Corps units—were recruited by a civilian defense contractor for the special project, undertaken in conjunction with the Ground Forces.

An aerial look at the Paratroopers exercise (צילום: דובר צה"ל)

The new exercise's goal was to stop using newly conscripted recruits or soldiers from similar companies in each battalion to duke it out without truly getting into the enemy's headspace, and instead use a special civilian force commanded by a former Egoz company commander and a Military Intelligence Directorate reserve officer.

The civilian group was paid a considerable wage to study Hezbollah's most up-to-date methods—won through experience gleaned in Syria and Iraq fighting—wear the Shiite terror group's uniforms and deploy to the Carmel Mountains in the dead of night, in preparation for the Paratrooper forces arriving.

The "Hezbollah combatants" were equipped with the best gear Hassan Nasrallah's men possess: new model AK-47s and PK machine guns, RZR ATVs, RPG rocket launchers, dirt bikes, pickup trucks with built-in rocket launchers, large drones to collect intelligence on Paratrooper movement, a special war room, advanced radios, night vision goggles and more.

Soldiers from the 101st Paratrooper Battalion were then tasked with overtaking a central Hezbollah command post deep in southern Lebanon, but the mock-Hezbollah combatants did not just sit in the abandoned structure, which simulated the headquarters in the northern village of Daliyat al-Karmel, and wait to be captured. Instead, they went out to the nearby mountain range, split up into smaller units and skillfully blended into the scenery.

The Lebanese group stand-ins then set up ambushes along the IDF force's route. In one instance, the "Hezbollah" group spotted the Paratroopers silently moving near a wadi at night and stealthily kidnapping the two soldiers bringing up the rear, without the other soldiers noticing.

"They're attuned to Hezbollah and its combat doctrine," the person commanding the mock terrorists explained to Ynet. "They studied how Hezbollah operates. We had prisoner interrogators from the IDF to question and extract intelligence from soldiers the Hezbollah force attempted to capture."

While the project is still in its infancy, the Paratroopers reported that staging enemy operations, including pyrotechnics to simulate mortar fire, proved challenging. The fighting between the "Hezbollah company" and the Paratroopers battalion was carried out without live fire to prevent incidents of friendly fire injuring or killing participants, but technology allowing to simulate hits without using live rounds will be integrated into the exercise in the future.

A senior Ground Forces officer who accompanied the project explained, "This new force will be integrated into additional large-scale drills, such as the brigade drills to be held later this year."

"We don't want to stage the enemy but simulate it. It's part of a change in perception. We're teaching them how we think the enemy will conduct itself," he added.

The officer further explained that, "This force has advantages and is directed on how to behave and how to look. These people are former combat soldiers and their commitment is therefore larger because it's their job. We aspire to keep using the same people drill to drill so knowledge and experience can accumulate."