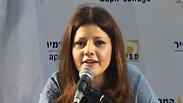 Orly Levy-Abekasis
Photo: Roee Idan
MK Orly Levy-Abekasis, who had quit the Yisrael Beytenu party over disagreements with chairman Avigdor Lieberman, announced Tuesday that she intends to start a new political party to run in the next elections.

"When Yair Lapid went into politics, it was the most legitimate thing in the world for a son of a politician... to start a party. The next day he became the country's finance minister without spending a day at the (Knesset) Finance Committee, without knowing how a budget is submitted, how information is concealed there and how manipulations are done inside the budget. And that was okay, that was legitimate," Levy-Abekasis said at the Sderot Conference for Society.

"But when I come after nine years in which I received perhaps all of the honors there are for parliamentary work—I think there's no dispute over that—and say again and again that I'm starting a party and I'll head it, journalists remain doubtful," she continued.

"Time and again I'm being asked who I'm joining forces with. What's not clear? I'm starting a party, I'll head it, I'll represent the public without prejudice."

Levy-Abekasis said she will file the list of signatures required to start a party on Wednesday. "Tomorrow, my aides and I are going to submit the founders' folder for my new party to the Population Registry," she said. "I recommend to the heads of the (existing) parties not to fear elections, and (instead) start to fear the new party that is being founded."

MK Levy-Abekasis, who has been operating in the Knesset as a one-person party over the past year, said she plans to focus on social issues, as she has been doing since first being elected to the 18th Knesset.

In May 2016, Levy-Abekasis announced she was leaving the Yisrael Beytenu party. But it was not until March 2017 that she was officially recognized as a one-person party.

And so, while she continues serving in the Knesset, she does not enjoy the parliamentary rights granted to parties, such as an allocation of bill proposals that would be brought to discussion in the Knesset's committees as well as representation in these committees.

At first, the opposition allowed Levy-Abekasis to make use of its own allocations, but later she created other options.

Because of the fact she was declared as an MK who has quit her party, she is limited by the law and would not be able to run for the Knesset with any of the existing parties, only a new party.

"I'm starting a new party that will set a real alternative to crony capitalism," she said, adding that she plans to launch a crowd-funding campaign for the new party in the coming days. "We have a strong society, and we need to make it stronger, so a child from Sderot, Beit She'an, Kiryat Malachi, Dimona or Be'er Sheva would have a better life."