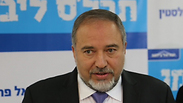 Avigdor Lieberman
Photo: Motti Kimchi
Yisrael Beytenu chairman and Foreign Minister Avigdor Lieberman announced his party's Knesset list for the upcoming elections on Monday evening. MK Orly Levy-Abekasis holds the second place on the list, followed by Immigration and Absorption Minister Sofa Landver in the third slot.

A number of the party's current MKs were pushed out of the top ten spots, including MK Shimon Ohayon, MK Alex Miller and MK Leon Litinetsky.

"There is no doubt that our dilemmas were more difficult this time in comparison to previous elections. Sixty five people offered to run for the list, and each one of them deserves to be in the top spots; it was not easy to form the concept that will reflect the strata of Israeli society, the Israeli mosaic," Lieberman said in his opening remarks.

Lieberman's 2015 campaign slogan, revealed on Thursday, is: "Tachles Lieberman! Telling it how it is." Tachles is a yiddish variation of the Hebrew word tachlit, which means "essence" and is widely used in Israeli slang as meaning "give it to me straight" or "to tell the truth/be honest."

Lieberman, whose party is under investigation and whose list for the Knesset faced turmoil after the resignation of senior members and ministers within the party, recently spoke of the new changes in the list of candidates: "Half of the emerging list will be (composed of) new people. It will be based off those who developed within the party. It is clear that the list will be very young, especially the first ten," said Lieberman.
No. 10 on list in Facebook post: 'Stinking Arab'
Shira Mistriel, who was placed in the number 10 spot on the Yisrael Beytenu party's list for the Knesset, came under fire on Monday after Facebook posts she wrote several years ago that included racist remarks against Arabs were circulated in the media. "Stinking Arab…For those who haven't seen it yet, there's a video on Youtube 'An Arab being run over'!!! Have a great night", one post said.
In another post, she wrote: "Hahahaha, all the lights went out in the Arab village, they deserve it."
Mistriel, a resident of Ariel, admitted in a Facebook post that she was wrong to phrase her words in such a manner: "Hello friends, a Facebook post that I wrote several years ago has been going around in the media; I certainly agree that there is a way to say things, but the fact is that in this case as well, those who were violent and threw stones at innocent people were Arabs."