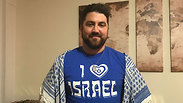 Persian royalty to Israel supporter: Ryan Ali Yazdi's story
Ryan Ali Yazdi is an Iranian Shiite Muslim, and a prominent member of the pro-Israeli Students Supporting Israel group, combating BDS across campuses; 'Each generation has a new form of anti-Semitism. In the past it was Nazi death camps, and today, it's Iran and the ayatollahs,' he declares, recalling his marvel at visiting Israel and seeing IDF soldiers helping wounded in Syrian civil war; Israel's rebirth 'one of the more important milestones in humanity's history,' he states.
The story of Ryan Ali Yazdi, 36, is almost inconceivable in the terms of the Middle East, so mired in conflict as it is. He is a member of the deposed Iranian royal bloodline—with his grandmother's cousin being the first wife of the Persian shah and his relatives serving as ministers in successive governments in Tehran.

In the Past few years, however, Yazdi has been giving his all in the administration of the Students Supporting Israel (SSI) group, a pro-Israeli student union active in 50 campuses across the United States, Canada, Europe and Israel.

Yazdi, majoring in East Asian studies and economics at the American Ivy League Columbia University, is the organization's treasurer, but far from chaining himself to desk work, he fights for Israel in protests and struggles in campuses nationwide.

His unwavering support of Israel, coupled with his Muslim background, leads him to attending protests wearing a t-shirt emblazoned with a Star of David and the inscription "I love Israel" while wearing a necklace with a pendant containing Koranic scripture.

"When I visited Israel," Yazdi recalled, "I told the guide—an army reservist—I thought the only people treating Muslims as human beings in that part of the world were probably Israelis."

"We visited the north and heard the shooting from the Syrian civil war. I saw Israeli soldiers earnestly treating the Syrian wounded and it astounded me," Yazdi recounted.

He continued, "(Syrian President Bashar) Assad was massacring half a million people and no one really cares. While I'm a Muslim, I'll stand with any nation that is threatened with genocide—and today the most significant such threat is made against Israel.

"Each generation has a new form of anti-Semitism. In the past it was Nazi death camps, and today, it's Iran and the ayatollahs."

Yazdi grew up in the famed upscale city of Beverly Hills in California, where he first met and connected with Jews. He still has family in Iran, however, some of which is not always ecstatic at his warm ties to Israel.

"I have relatives who are anti-Israel much like many other Iranians, but for me, as a young man, it just doesn't make sense how the Iranian people—who have always had good relations with the Jewish people from the time of Cyrus and up until the shah, save for maybe the incident surrounding Purim—became so anti-Israeli," he marveled.

He further elaborated, "Iran's historical enemies are Arabs but for some reason the Arab mentality towards Jews has become prevalent. The mullahs (Islamic clerics—ed) in Iran are enemies to my family. I have an aunt who in 1991 was the victim of an acid attack for walking around Tehran without a hijab."
Combating BDS
The bulk of Yazdi's work in SSI centers around combating the Boycott, Divestment and Sanctions (BDS) campaign. "I think BDS dehumanizes human lives in the Middle East," Yazdi opined.

"They think it's alright to kill Muslims in the Middle East. They don't care about what's happening in Gaza and other Arab countries when it comes to human rights, gay rights. All they care about is destroying Israel. BDS is bringing up the next generation in campuses to be anti-Semites, they're disseminating Nazi propaganda against Israel," he accused.

Yazdi is often attacked by Arabs and Muslims alike for choosing Israel's side in the bitter Middle Eastern conflict. He counters accusations by saying, "I'm not afraid of anyone. I'm often called a 'traitor' to my people or an 'islamophobe.' I don't care.

"I always warn people to never make comments about Israel within my earshot that border on ignorance, because then I immediately jump up to respond."

His harsh criticism of his homeland has sadly nullified his chances of returning there someday. Visiting Israel, however, has made him an even bigger Zionist, he said.

"I sat in Tel Aviv, drank a coffee and smoked a cigarette and thought to myself that now I truly understood the meaning of a Jewish state. People who rose out of pogroms, the Holocaust and Arab expulsion created a magnificent country.

"I'm listening to a language that has been dead for hundreds of years—and it really moves me. I think the rebirth of the State of Israel is one of the more important milestones in humanity's history."

Ofir Dayan, the SSI organization's foreign relations representative and daughter of Israel's Consul General to New York Dani Dayan, said, "Twenty-five percent of the members in SSI's Columbia University chapter are not Jewish.

"Activists such as Ryan prove day in and day out that you don't have to be Jewish to understand which side is moral and just, and to act to illustrate that fact to the university's students and faculty."