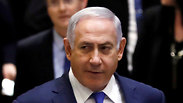 PM Netanyahu
Photo: Reuters
Headway made in averting elections, but Lieberman yet to give green light
Shortly after coalition officials say PM making 'serious efforts' to avoid nation being dragged into early elections, meeting with coalition heads yields results after agreement reached to pass IDF conscription bill in preliminary reading, state budget in all 3 readings; deal still requires Lieberman and Litzman's blessing.
Coalition leaders reportedly made headway on an agreement Tuesday evening to pass the IDF conscription bill designed to exempt Haredim from military service in its preliminary reading in the Knesset Plenum, with all factions set to be given carte blanche to vote as they please.

As a result, Immigrant Absorption Minister Sofa Landver (Yisrael Beytenu) will be able to vote against the bill—as she has threatened to do—and will not be fired. The decision would constitute a departure from a coalition agreement that ministers who vote against its decisions are automatically fired

The agreement, already approved by Finance Minister Moshe Kahlon, Education Minister Naftali Bennett and Interior Minister Aryeh Deri, further stipulates that the state's 2019 budget will pass in its three readings and the nationality bill will go up to a first reading vote no later than Thursday.

Defense Minister Avigdor Lieberman (Yisrael Beytenu), Deputy Health Minister Yaakov Litzman and MK Moshe Gafni (UTJ), however, have not yet approved the deal.

To that end, Prime Minister Netanyahu invited the Haredi MKs to his offices to present the details of the agreement to them, but a UTJ source told Ynet that the party will "not consent to a freedom to vote clause, endangering the bill's passage."

Members of the coalition government said earlier that the general feeling is that Netanyahu "regrets" that the ongoing crisis over the IDF draft bill being pushed by Haredi parties may be dragging the nation to early elections.

"Netanyahu has undertaken serious efforts in the last few hours to solve the crisis. The feeling is that he has regrets (what has happened—ed) and doesn't want to go to elections," senior coalition officials told Ynet after the prime minister after met with government leaders on Tuesday evening in another bid to stave off early elections.

The crisis in the coalition erupted over Haredi parties' insistence to pass an amendment to the IDF draft law that would solicit state recognition of Torah studies to being equal to military service before it lends its support to the 2019 state budget.

Minister Landver's threats to shoot down the bill was a key focus for the prime minister and his colleagues since Lieberman had made follow-up threats to torpedo the coalition if she was fired for the move. Seeking to avoid almost certain elections, Netanyahu asked other faction heads in the coalition to commit to accepting Landver's vote and not demanding that she be fired.

Earlier, while stressing that "going to elections is wrong for Israel and wrong for Yisrael Beytenu," the party's leader and Defense Minister Avigdor Lieberman said that if Netanyahu decides to fire Landver for voting against the legislation, "then of course we're heading for elections."

Either way, the Ministerial Committee for Legislation was due to discuss an appeal filed by Landver against the draft law at 3pm, but the meeting was postponed first to 6pm and then 6:45pm at the request of the prime minister.

Arriving to the meeting, Landver said "The crisis is not yet over. I don't know how it will end, but I do know we'll be voting against (the bill)."

Netanyahu reached a compromise with Haredi parties, who initially threatened not to support the 2019 state budget if their bill is not passed in second and third reading before the Knesset's winter session's conclusion on March 18, convincing them to instead settle for a preliminary reading vote—a compromise Lieberman rejected.

"You can't expect Yisrael Beytenu to vote in favor of the draft law, just like you can't expect Shas to vote for buses on Shabbat," Lieberman said at a conference in Airport City

"When it comes to state security, we cannot compromise. This bill is the wrong thing for the State of Israel. It perpetuates the tensions, perpetuates poverty (in the Haredi sector). The ball is in the prime minister's court. We'll know exactly where we're heading after the vote."

While observers and politicians alike have been suspicious of Netanyahu's motives in the crisis, with some senior coalition members asserting that he and Lieberman are working together to bring about early elections, if the prime minister is indeed having regrets about such a possible plan, they come just a day after he announced that he was not scared of going to elections during a special Knesset hearing.

"If there are elections, we will contend and win, but we are not there yet," Netanyahu confidently told the Knesset members.