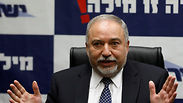 Defense Minister Lieberman
Photo: Reuters
Lieberman: 'The ball is in Netanyahu's court, we'll oppose draft law'
'You can't expect Yisrael Beytenu to vote in favor of the draft law, just like you can't expect Shas to vote for buses on Shabbat,' the defense minister says, maintaining that his party will vote against the proposed legislation; Minister Yisrael Katz: 'You might pay for mistakes.'
Defense Minister Avigdor Lieberman explained Tuesday his intransigence on the proposed Haredi amendment to the IDF draft law, saying "You can't expect Yisrael Beytenu to vote in favor of the draft law, just like you can't expect Shas to vote for buses on Shabbat."

"When it comes to state security, we cannot compromise," Lieberman said at a conference in Airport City. "This bill is the wrong thing for the State of Israel. It perpetuates the tensions, perpetuates poverty (in the Haredi sector). The ball is in the prime minister's court. We'll know exactly where we're heading after the vote."

With that in mind, he called to "stop and let the defense establishment and the IDF resolve the draft law (crisis)."

The crisis in the coalition erupted over Haredi parties' insistence to pass an amendment to the IDF draft law that would solicit state recognition of Torah studies to being equal to military service.

Prime Minister Benjamin Netanyahu reached a compromise with Haredi parties, who initially threatened not to support the 2019 state budget if their bill is not passed in second and third reading before the Knesset's winter session's conclusion on March 18, convincing them to instead settle for a preliminary reading vote—a compromise Lieberman rejected.

Lieberman, who is a minister but not a member of Knesset, said his Yisrael Beytenu party will vote against the legislation in its preliminary reading as well as in the second and third readings, which are scheduled to take place in May.


While stressing that "going to elections is wrong for Israel and wrong for Yisrael Beytenu," Lieberman said that if Netanyahu decides to fire Minister Sofa Landver for voting against the legislation, "then of course we're heading for elections."

The defense minister noted that so far, he hasn't met with Netanyahu face to face and only spoke to him on the phone twice about the crisis.

The Ministerial Committee for Legislation was due to discuss an appeal filed by Landver against the draft law at 3pm, but the meeting was postponed to 6pm at the request for the prime minister.

Transportation Minister Yisrael Katz, a member of Netanyahu's Likud party, pointed a finger at Lieberman, telling Ynet "the meaning of making a mistake is that eventually, you might pay for mistakes."

However, Katz clarified that "I don't wish to confront or preach (to Lieberman). I think he's in a very important role, perhaps the second most important after the prime minister, with the ability to influence."

Katz insisted Netanyahu "was not interested in elections, the Likud is not interested in elections, and to stop that everyone should withdraw their ultimatums."

While the Haredim, Lieberman and Bayit Yehudi made ultimatums, "some of the ultimatums have been withdrawn, and if all of them are withdrawn, the government could continue functioning," he said.

The transportation minister also asserted that the prime minister did not create this crisis. "I think Lieberman made a mistake in his conduct. He believes it too," he claimed.

While most coalition officials spoke anonymously against the prime minister, Justice Minister Ayelet Shaked had no qualms with publicly pointing a finger at Netanyahu. "This is an artificial crisis," she tweeted. "Prime Minister, bringing down a right-wing government over nothing at all would be a historic mistake, similar in its impact to the collapse of the Shamir government in 1992."

Opposition leader Isaac Herzog said Netanyahu wanted early elections "to get ahead of the attorney general" who needs to determine whether or not to indict him. "It is an outrage to go to elections when you don't know what's going on with your prime minister. Netanyahu decided to go to elections to save himself. It's time we said that."

Herzog didn't rule out the possibility Netanyahu was coordinating the move with Lieberman. "Lieberman claims that it's not, but the signs here are clear. I believe there are deals between parts of the coalition, but it's not my job to judge."

MK Revital Swid (Zionist Union) turned to Attorney General Avichai Mandelblit on Tuesday, asking him to set a deadline to make his decision on whether or not to indict the prime minister.

Israel's citizens, she said, have the right to choose their prime minister with the knowledge of whether or not Netanyahu is going to be indict "to maintain government stability."

Moran Azulay, Alexandra Lukash, Nir Cohen and Yoav Zitun contributed to this story.