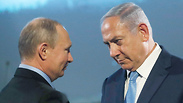 PM Netanyahu and President Vladimir Putin
Photo: EPA
Condemning attack on Russian double agent, Israel avoids vexing Kremlin
Despite UK's closest allies pointing finger directly at Russia for nerve gas attack on British soil that left former Russian double agent and his daughter in critical condition, Israel, reluctant to sour relations with Moscow in the ongoing fight against Iranian proxies, slams poisoning, but avoids blaming Kremlin.
Israel issued Thursday a belated criticism of the poisoning on British soil of a former spy with a powerful nerve agent, but failed to attribute responsibility to Russia in a bid to avoid souring relations with Moscow.

"Israel views the event that took place in Great Britain with gravity and strongly condemns it," an official statement put out by the Foreign Ministry said.


"We hope that the international community will be able to join forces to prevent the recurrence of such events in the future."

The statement's omission of any implication that Russia stands behind the March 4 attack that left former Russian double agent Sergei Skripal and his daughter Yulia in critical condition and a British police officer seriously ill came shortly after the leaders of the United States, France and Germany joined Britain in blaming Russia.

Loath to cut cooperation with Moscow as Jerusalem continues taking military action against Iranian proxies seeking to attack Israel from Syrian soil, explicitly blaming Russia would likely be an ill-advised course of diplomatic action.

During a conversation about the Iranian nuclear deal between the British Ambassador to Israel David Quarrey and head of the National Security Council Meir Ben Shabbat, the former stated clearly Britain's position that Russia was fully to blame for the attack.

Quarrey also told Ben Shabbat that he expected the UK's allies, including Israel, to join it in condemning the poisoning, which investigators suspect was carried out with nerve gas.

Quarrey also raised the issue with other Israeli senior officials and indicated that he expected Israel to also lay responsibility at Russia's doorstep.

However, after an advisory session with Prime Minister Benjamin Netanyahu on how to handle the matter, a more laconic statement was issued that fell short of pointing the finger at the Kremlin. It was also decided that the statement would be published by the Foreign Ministry rather than the Prime Minister's Office.

Netanyahu and Putin have held numerous meetings in recent years as Israel attempts to ensure that no military operations against targets in Syria clash with Russian interests. Moreover, blaming Russia risks upsetting relations between the two countries, which could have major security implications for Israel.

In February, Netanyahu spoke to Russian President Vladimir Putin and US Secretary of State Rex Tillerson after an Israeli F-16 jet retaliating against an Iranian drone infiltration was downed by Syrian aerial defense.