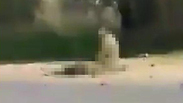 Soldier seen giving first aid to another seconds after the attack
New footage from the scene of the car-ramming terror attack on Friday, which claimed the lives of two IDF soldiers, Palestinians are seen offering help to the soldiers and trying to save their lives.

"Did anyone call for help, soldier?" one of the Palestinian eye witnesses asks in a video filmed by another eye witness seconds after the attack. He is later heard asking one of the soldiers treating the wounded "Can I help?"

The footage was filmed before IDF reinforcement and Magen David Adom medics arrived at the scene.

One of the Palestinians is heard telling his friends in Arabic, "Go back," so as to not interrupt the rescue efforts.

Terrorist Alaa Kabha rammed into a patrol of IDF soldiers with his car on Friday afternoon on route 585 between the settlements of Mevo Dotan and Hermesh, killing two of the soldiers—an officer and a conscript—and wounding two others.

An initial investigation into the incident found that when they were spotted by the terrorist, the troops were standing near a pillbox post located between the village of Ya'bad and nearby olive plantations. The two slain soldiers were standing at the front of their jeep, while the other two stood on the vehicle's other side, near the road.

Upon spotting the soldiers, the terrorist veered from the road, sped up, and hit the officer and the soldier who was standing with him first. The two were killed instantly.

Then, the terrorist sped towards the two other troops, wounding one very seriously and the other moderately. At some point, the terrorist also hit the barbed-wire fence that surrounded the pillbox post.

The IDF's assessment is that only seconds passed between the time the terrorist hit the first two soldiers to when he hit the other two, leaving the troops no time to respond and fire at him.

The terrorist's Hyundai jeep has been completely destroyed in the attack, with vehicle parts scattered to considerable distances from the spot of the attack, which is a testament to the force with which he rammed into the soldiers.

Kabha, a former security prisoner who was released from prison in April 2017, initially insisted the attack was merely an accident, but he later confessed under interrogation to having acted under nationalistic motives.

The Shin Bet said that no other persons involved in the attack or aware of Kabha's intentions were known at present, meaning he was a "lone wolf" terrorist acting without the guidance of a terror group.