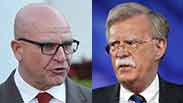 H.R. McMaster (L) and John Bolton
Photo: AFP
McMaster out, Bolton in as Trump's national security adviser
Former US Ambassador to UN John Bolton to replace General H.R. McMaster as President Trump's national security adviser; Bolton third appointee to position in 14 months; a foreign policy hawk, he is expected to chart a hard-line foreign policy course on Iran, North Korea; 'I am very thankful for the service of General H.R. McMaster who has done an outstanding job & will always remain my friend,' Trump tweets.
Charging ahead with the dramatic remaking of his White House, President Donald Trump said Thursday he would replace national security adviser H.R. McMaster with the former UN Ambassador John Bolton, a foreign policy hawk entering a White House facing key decisions on Iran and North Korea.

After weeks of speculation about McMaster's future, Trump and the respected three-star general put a positive face on the departure, making no reference to the growing public friction between them. Trump tweeted Thursday that McMaster had done "an outstanding job & will always remain my friend." He said Bolton will take over April 9 as his third national security adviser in just over a year.

A White House source told CNN that McMaster's resignation was not unexpected. "The two have been in talks about it for a while. It was carried out quickly because they both felt it was important to have a new team in place," he said.

The resignation was not brought on by any one specific incident, the source added, but was the result of ongoing talks between the ousted national security adviser and President Trump.

Incoming adviser Bolton told told Fox News Thursday evening, "I didn't really expect that announcement this afternoon, but it's obviously a great honor. It's always an honor to serve our country and I think particularly in these times internationally, it's a particular honor."
I am pleased to announce that, effective 4/9/18, @AmbJohnBolton will be my new National Security Advisor. I am very thankful for the service of General H.R. McMaster who has done an outstanding job & will always remain my friend. There will be an official contact handover on 4/9.

— Donald J. Trump (@realDonaldTrump) March 22, 2018
"There's still a transition," Bolton said. "I look forward to working with H.R. and his team and the other senior members of the president's team on national security and I have no doubt there's a lot of work to do."

In a statement released by the White House, McMaster was quoted as saying, "After 34 years of service to our nation, I am requesting retirement from the US Army effective this summer after which I will leave public service. Throughout my career it has been my greatest privilege to serve alongside extraordinary servicemembers and dedicated civilians.

"I am thankful to President Donald J. Trump for the opportunity to serve him and our nation as national security advisor. I am grateful for the friendship and support of the members of the National Security Council who worked together to provide the President with the best options to protect and advance our national interests."

McMaster is the sixth close adviser or aide to announce a departure in a turbulent six weeks, joining ally Secretary of State Rex Tillerson, who was unceremoniously fired last week.

The White House has said the president is seeking to put new foreign policy leaders in place ahead of not-yet-scheduled meeting with North Korean leader Kim Jung Un. Bolton is likely to add a hard-line influence to those talks, as well as deliberations over whether to pull out of the Iran nuclear deal.

McMaster never developed a personal rapport with Trump, who chafed at his long-winded briefing style, according to a White House official and a person close to the president. His influence in high-level decision-making had waned in recent months, as Trump has increasingly relied on the direct counsel of Kelly and Mattis.
Bolton a foreign police maverick
Bolton, probably the most divisive foreign policy expert ever to serve as UN ambassador, has been a force in Republican foreign policy circles for decades. He has served in the Republican administrations of Ronald Reagan, George H.W. Bush and George W. Bush, and served as a Bush lawyer during the 2000 Florida recount.

A strong supporter of the Iraq war and an advocate for aggressive use of American power, Bolton was unable to win Senate confirmation after his nomination to the UN post alienated many Democrats and even some Republicans. He resigned after serving 17 months as a Bush "recess appointment," which allowed him to hold the job on a temporary basis without Senate confirmation.

After Trump's election victory, Bolton visited the president-elect apartment in New York City's Trump Tower, and was even rumored to be a prominent frontrunner for the position of secretary of state, but was eventually dropped in favor of Tillerson.

Bolton has made vehement public statements against the Iran nuclear deal, which Trump himself detests. Commenting on the matter this week in a Fox News interview, the new national security adviser said, "I think it's a strategic debacle for the United States.

"You can always tinker around the edges, and the question is whether putting lipstick on a pig is really going to make a difference here. I think the answer to that's clearly no."

In a 2007 interview in Britain, meanwhile, Bolton said Iran should be attacked before the Islamic republic had the opportunity to develop nuclear weapons. Moreover, before Barack Obama's election win he stated he believed Israel will attack Iran itself if the Democratic candidate was elected.

"Israel will fear Obama's foreign policy," he said in August, 2008. "Electing Obama will drive the government in Jerusalem to expedite the move."

A month before the aforementioned statement, Bolton wrote in a Wall Street Journal op-ed, "Instead of debating how much longer to continue five years of failed diplomacy, we should be intensively considering what cooperation the US will extend to Israel before, during and after a strike on Iran.

"At a minimum, we should place no obstacles in Israel's path, and facilitate its efforts where we can. "

Bolton's views on the Israeli-Palestinian conflict are also hawkish. "The two-state solution is dead," he told the Breitbart news site in December, 2016. Some six months later, he said in another interview on the matter that the solution was "not viable and not realistic at present."

Bolton was also a strong supporter of Israel without regard to the Israeli-Palestinian conflict, and defended the country in numerous occasions while he was ambassador to the UN. "For years, Israel has been a target of hostility from the General Assembly with imbalanced, one-sided resolutions on the Israeli-Palestinian conflict," he once said.

The role of national security adviser does not require Senate confirmation.

McMaster was brought in after Trump's first national security adviser, Michael Flynn, was dismissed after less than a month in office. White House officials said he was ousted because he did not tell top advisers, including Vice President Mike Pence, about the full extent of his contacts with Russian officials.