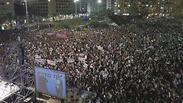 The anti-expulsion rally
Photo: Rana Lev Ari
Some 25,000 anti-expulsion demonstrators gathered in Tel Aviv's Rabin Square Saturday to protest the government's plan to deport asylum seekers to Uganda and Rwanda.

The demonstration is held under the banner of "Against the Expulsion of Asylum Seekers and for the Rehabilitation of the Neighborhoods of Southern Tel Aviv," and was organized in cooperation with the Sudanese and Eritrean community organizations, the Stop the Expulsion movement, the South Tel Aviv Movement Against the Expulsion group, the Aid Organization for Refugees and Asylum Seekers in Israel and The Hotline for Refugees and Migrants.

Taking the podium at the rally, Monnim Harun, an asylum seeker from Sudan, started by sharing his experience at being a refugee in Israel, one, he says, who fled from violence and death like many others taking refuge in this country.

"At the age of 12, the Sudanese government tried to murder me and my family because I was from the wrong tribe," he began. "No one dreams of leaving his home, his country and his family, and to go to seek shelter in a place he does not know.

"I am from an area in Sudan, where genocide has been going on for decades. The area where I grew up was attacked in the past year with chemical weapons by the Sudanese government. For 14 years the government has deliberately attacked its citizens with chemical weapons. Last Wednesday, just this week, again, the area where I was born and raised was attacked, and again dozens of people were killed, most of them children and women.

"For you it's a newspaper headline, but for me it's family. These are my brothers and sisters, and my cousins. This is my father and my uncle and my aunt, and a mother who has already been murdered. There are many more like me in Israel. Asylum seekers who got up this morning without knowing whether their relatives are alive or not. They ride with you on the bus, they wash the dishes in the restaurant where you eat, they clean the streets where you walk. And all this time they are in daily fear about the lives of the people they love."

Harun then fumed at the government's relegation of asylum seekers as illegal immigrants, calling to question who, if not them, are truly asylum seekers. He noted his request for asylum has not been answered for five years.

"We thought that the State of Israel would understand us more than anyone else, but the Israeli government does not want us here, saying we are not refugees.

"So I want to ask the Government of Israel: A person who escaped from forced labor under a dictatorial regime—is not a refugee? A person who is persecuted only because of his religion or ethnic origin—is not a refugee?! A person who has suffered violence, rape and torture in his country—is not a refugee?! A person who had his village burned and his family killed in front of his very eyes—is not a refugee?! A person who has survived genocide—is not a refugee?! So who is a refugee?!" he shouted, is impassioned words drawing laud cheers and claps.

Shula Keshet, the leader of the South Tel Aviv against the Expulsion group and a resident of the Neve Sha'anan neighborhood in south Tel Aviv, backed Harun's assertion, saying referring to asylum seekers as illegal immigrants is racist, and so is that imprisoning them or deporting them.

Keshet then called for the investment of funds for the rehabilitation of asylum seekers and south Tel Aviv, claiming apathy and money in politics prevented this so far.

"Routing tens of thousands of migrant workers and asylum seekers to one place and creating inhuman population density is racist, and so is to deport them, whether it be 'voluntarily' or forcefully.

"A voice calls from the neighborhoods—to dismantle the ghettos. A voice calls on the neighborhoods—to stop the expulsion policy of asylum seekers, to immediately stop the policy of evacuating residents from their homes, to stop the gentrification process in the neighborhoods."

Sheffi Paz, leader of the pro-expulsion South Tel Aviv Liberation Front, along with several others from her organization reportedly tried to break into the stage and were removed by police.

They denied doing so.

"We did not come to demonstrate; we stood in front of the stage and filmed, and suddenly 15 policemen came and violently pulled us out."

"Infiltrators are shouting on the stage, demonstrators from all over the country have come to the show of hatred towards the neighborhoods of south Tel Aviv, and us activists are being forced out to the sound of applause of the crowd."

Paz said ahead of the rally her organization does not intend to stage a counter-protest.

Siding with Paz, Interior Minister Aryeh Deri dismissed the mass protest as a deceitful attempt to pressure the government against its decision, and reiterated that "the migrant workers will be removed; war refugees and children will remain."

"I will continue to care for the residents of the neighborhoods and the character of the State of Israel despite the pressures and lies," he tweeted.