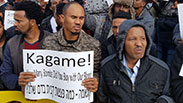 Protesting expulsion
Photo: Ido Erez
The facts behind the migrants expulsion plan
According to official figures, 34,187 Sudanese, Eritreans, illegally crossed into Israel; out of 12,136 asylum requests, only 11 were approved, compared to 90% in other countries; Many prominent Israelis oppose the expulsion on humanitarian grounds, but other assure that the migrants' safety is not compromised.
The plan to expel illegal migrants from Sudan and Eritrea from Israel has been the center of much controversy in recent weeks. Especially since much of the pertinent data that is being tossed around is confusing and often contradictory.

According to the Interior Ministry, 34,187 Sudanese and Eritreans have illegally crossed the border from Egypt to Israel. As of now, anyone that has not yet been approved for asylum is set to be expelled by April 1 or face imprisonment.

Protesting the expulsion

Of the 12,136 asylum requests submitted, only 11 were approved, ten from Eritrea and one from Sudan. In contrast, in other western countries, 90% of asylum requests submitted in 2017 by Eritreans were approved, and 57% of those submitted by migrants from Sudan were approved.

Israeli immigration authorities explain the contrast by asserting that many European countries have widened their criteria for asylum beyond the definition of the UN Convention on Refugees that Israel is a signatory to.


Those facing expulsion currently have two options: Willingly departing to Rwanda in return for $3,500 and a plane ticket or face indefinite jail time at Saharonim detention facility in the Negev. In addition, the monetary sum given to those who leave on their own accord will decrease gradually after April 1.

During the initial phase of the expulsion, only working-age single males will be deported since they most commonly fit the profile of economic migrants. At later stages, women and children may also be forced to leave.

Until recently, Israel's policy was that of temporary non-expulsions. Due to the security and human rights situation in Sudan and Eritrea, migrants from those countries were given the option to leave voluntarily to either Rwanda or Uganda, countries with whom Israel signed an agreement to absorb those who left.

Since that policy was implemented in 2014, 9,695 Eritreans and 5,335 Sudanese left the country.

But the voluntary departures were not enough to satisfy some Israelis, prompting the government to announce the signing of an agreement that would allow for the forced deportation of migrants to a neutral country. The agreement is classified but that country is believed to be Rwanda. For each asylum seeker sent there, the destination country is to receive $5,000.
Rwanda denies agreement
Despite the rumors, Rwanda has denied the existence of any such agreement. Testimony from asylum seekers who already left to Rwanda indicates that the country is not interested in absorbing the migrants and does not offer them any official status. Many are forced back into the cycle of refugees and wander throughout African countries or try their luck at reaching Europe on a treacherous journey on an unsafe boat across the Mediterranean Sea.

Nevertheless, Israel claims that Rwanda is a secure and stable country and that in the agreement signed between them, Rwanda has committed to treating the expellees well.

The Refugees Hotline and other refugee aid associations claim that "Recently, public servants have been heard lying to the Israeli public on behalf of the government. The fact is that Israel is sending internationally recognized refugees to foreign countries in what is nothing but a sham, where they will have neither rights nor a decent chance to acclimatize.

"Those who claim that they are not refugees are hiding the fact that only 11 refugees have been recognized by Israel … Women and children are also on track for expulsion. We must not allow that Israel's 70th year be marked by the act of expelling refugees who are seeking our protection," they said.
Amnesty International criticizes Israel
Amnesty International has called for the removal of Israel's signature from the UN Convention on Refugees. "In contrast to what government representatives and ministers are saying, Israel is not standing by its commitment to the refugee's agreement, on the contrary…" said the organization.

The group called on the Israeli government to stop the expulsion campaign and allow the migrants to submit their refugee requests according to international standards. They assert that Israel does not currently have any asylum system in place.

Director of the Immigration Administration Prof. Shlomo Mor-Yosef commented on the criticism saying: "The plan was approved by all relevant parties including the government and five High Court justices who ruled that voluntary departure is reasonable and respectful."

Mor-Yosef added that the claim the migrants are being sent to their deaths is out of touch with reality.