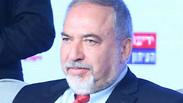 Defense Minister Lieberman
Photo: Motti Kimchi
Lieberman vows: Iran won't be allowed to get nuclear weapons
Speaking at Ynet and Yedioth conference, defense minister says Israel determined to stop Tehran from obtaining nuclear weapons and from establishing a military presence in Syria; Bennett rejects claims contentious ethical code is meant to 'silence' lecturers.
Defense Minister Avigdor Lieberman vowed Sunday that Iran will not be allowed to obtain nuclear weapons.

"Iran won't have nuclear weapons. The State of Israel is determined not to allow nuclear weapons for Iran," Lieberman said at a conference organized by Ynet and Yedioth Ahronoth to celebrate 70 years of Israeli success.

He also said Israel won't allow Iran to establish a military presence in Syria. "We're not just saying it, we mean what we say," he added.

When asked if the Israeli home front was ready for a possible war, the defense minister noted that "the better (preparedness) is in the south, on the Gaza border. It's bad in the north."

Lieberman also advised Israelis not to be alarmed by Hamas plans to march Gaza's citizens towards Israel starting Friday. "We need to handle everything with cool and determination. We're prepared for any scenario, we're raising the level of alert, and we will deal with any event that takes place."
Bennett: Ethical code is balanced
Education Minister Naftali Bennett, who also took part in the conference, rejected criticism that a contentious new ethical code recently adopted by the Council for Higher Education was meant to "silence" lecturers.
"The ethical code is balanced and passed unanimously at the Council for Higher Education. People are jumping (to conclusions) without reading it," the education minister said. "According to the code, during class a lecturer won't promote a certain (political) party. I believe that's a pretty reasonable thing."
"I think if they check Israeli public option, they'd see there's a pretty overwhelming majority for it," Bennett added, further stressing that "this is a document that prevents silencing."
Bennett agreed with Lieberman that Israel "must not accept a nuclear Iran," noting that he did not think the United States will remain party to the "bad deal" with Tehran.
"I hope we could deal with Iran with paralyzing sanctions, really paralyzing," he said.
The Bayit Yehudi leader also sought to clarify some aspects of the government's plan to deport asylum seekers from Eritrea and Sudan in the wake of a massive protest against it on Saturday night. "Those who are refugees will not be expelled. Those who are infiltrators will be returned," he stressed.
"It is immoral to take in illegal work migrants," Bennett further asserted. "I see in the media a massive campaign that created a distortion of reality. We're not expelling refugees who escaped danger, but we're definitely saying: Israel is not where you come to upgrade your income."
He called on Prime Minister Benjamin Netanyahu not to "fold" on the deportation plan, saying "We will stand behind him; we'll make sure the plan that was approved will be implemented."
He also stood behind the prime minister with regards to the investigations against him, saying he won't quit the government if Netanyahu is merely indicted. "The man enjoys the presumption of innocence. There were countless of public officials who were also charged and got thrown out," he said.
"If the indictment is about trifles, breach of trust over something minor, do we really want to go against the will of the people and bring down a government over this?" Bennett wondered.
"I think my position is the most reasonable, it's to the point. It doesn't give sweeping support, but on the other hand I'm not throwing Netanyahu out as long as he hasn't been convicted of anything. I know there are many who want to see Netanyahu go, but this is not the way," the education minister added.
Bennett noted he was in no rush to run for prime minister, saying "the day after Netanyahu, I plan to run for the premiership and win."
Edelstein: We should consider limiting the PM to two terms
Knesset Speaker Yuli Edelstein, from Netanyahu's ruling Likud party, asserted the government should consider limiting the prime minister to two terms.
"In our regime, it's not a simple decision," Edelstein said at the conference, adding "We need and should consider this seriously, but there are no easy solutions here."
He argued that such a step would "actually tell a party, 'Even if you believe this candidate could lead you to power, you must not appoint him prime minister.' We need to seriously consider how to reach a similar situation to that in the US and France, where the president's terms are limited."
Edelstein was asked to comment about Prime Minister Netanyahu's attacks against law enforcement authorities and the left wing. "Sometimes there is a speech that is more or less stately. But why does the prime minister speak like this? Because that is what is expected of him by the media, social media and even his voters," he said.