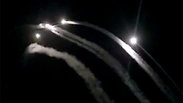 Iron Dome interceptor barrage
Iron Dome system triggered due to 'system oversensitivity'
Salvo of Iron Dome interceptors as a result of heavy Gaza machinegun fire leads to IAF inquiry; aerial defense commander says no human, technical error led to barrage; 'We don't take chances in situations with even slightest potential of harming either civilians or property,' he states.
An Israel Air Force inquiry Monday found that neither human nor technical errors were responsible for triggering the Iron Dome missile-defense system against machinegun fire from Gaza, and the salvo was the result of simple risk aversion.

"There was system oversensitivity, and we had five seconds to decide. We don't take chances in situations with even the slightest potential of harming either civilians or property," said Brig.-Gen. Zvika Haimovich, the commander of the IAF's air defense systems.

The Iron Dome's errant launch

"The system recognized rocket fire that may threaten the Zikim area," he explained. "We do our best not to take chances at (non-war) times, and the number of rockets is therefore not representative of the number of threats or the number of risks."

"We want to maximize defense, and that carries a price. The cost is outside of military and operational considerations when it comes time to make a decision. Not only was there no human or techcnical error last night, but the forces acted with the utmost professionalism and will learn from the event," he said.

The senior IAF official then went on to refute Palestinian claims that intercepting rockets fell within the Gaza Strip's territory. "A launch on a trajectory towards Israel was recognized. It acted ballistically for all intents and purposes. I did not care at the time whether it was a mortar, rocket or heavy machinegun," he said.

The air defense chief elucidated that his forces "operate in a highly complex environment that includes mortars, rockets, missiles, machineguns and heavy machineguns—some of which are regulation and some that aren't."

"Yesterday's incident had a five-second reaction time in which we needed to decide, and that takes courage, clarity and professionalism because the range was five kilometers. There was the potential of civilians being harmed, but none weren't. We'll continue minimizing risks even at the price of paying high costs," he vowed.

The heavy machinegun fire, the officer noted, was picked up by the Iron Dome's radars as ballistic rocket launches. "I'll intercept threats during (non-war) times that I won't during emergency situations, and if need be I'll send double interceptors at threats," Haimovich clarified. "Rockets exist today that are fired like artillery mortars. Our enemies are in an arms race."

"I don't fear a situation in which I'll be left without intercepting missiles," Haimovich stated. "No system is without its limitations or weaknesses. There's not a lot of time for deliberation in situations like this. Weighing risk against chance, I'd rather go with chance."

Within several minutes late Sunday, a series of Code Red rocket-alert sirens sounded at the Hof Ashkelon and Sha'ar HaNegev Regional Councils as well as in Sderot.

The Iron Dome system was triggered and successive intercepting missiles were launched one after the other, but the IDF Spokesperson's Office announced shortly thereafter that, "No missile barrage was launched at Israel. The situation on the Gaza perimeter remains normal. Iron Dome's interceptors were triggered due to machinegun fire from the strip."

Some two hours after the attacks, it was reported that an IDF tank attacked two observation posts in the northern part of the strip. IDF Spokesperson's Office reiterated the incident was caused by irregular machinegun fire, that Hamas was responsible for all goings-on inside the strip, and that the IDF looks gravely on any sort of fire leveraged at Israel.