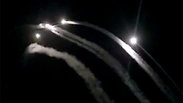 Iron Dome intercepts bullets
Iron Dome kicks into action after mistaking bullets for rockets
Code Red sirens blare in Hof Ashkelon and Sha'ar HaNegev Regional Councils and Sderot as Iron Dome missile-defense system mistakes bullets from Gaza for barrage of rockets; IDF: 'No salvo was fired at the State of Israel. The situation in the Gaza region is as usual.'
Multiple Code Red false alarms were blasted in the Hof Ashkelon and Sha'ar HaNegev Regional Councils and in the southern city of Sderot Sunday evening as the Iron Dome missile-defense mistook bullets from the Gaza Strip for a fusillade of rockets.
The regional councils originally reported that the Iron Dome anti-missile system was said to have intercepted every rocket rocket. However, the IDF later confirmed that no salvo had been fired at Israel.
"No salvo was fired at territory in the State of Israel. The situation in the Gaza region is usual. The interceptions by the Iron Dome system were activated because of the firing of bullets from the strip. Nothing fell in Israeli territory. It is being checked whether mortars or rockets were even fired at all," the statement read.
Before the IDF clarification, the regional councils instructed the southern residents to remain in sheltered rooms.
Iron Dome intercepts rockets from Gaza
The incident comes as Hamas's military wing, the Izz ad-Din al-Qassam Brigades, launched a large-scale military exercise in the Gaza Strip on Sunday morning.
Eyewitnesses in Gaza say that Hamas launched at least one rocket in the direction of the sea as part of the exercise.
The exercise, which is set to end Monday morning, incorporates several replicas of the Israeli-made Merkava tanks to simulate IDF forces.
Tensions have been on the rise on the Gaza border ahead of a Hamas-organized Great March of Return, which will see Palestinians in the strip marching en masse toward the border with Israel starting this Friday, Land Day, with protests expected to continue until May 15, Nakba Day.
Other border incidents have increased friction between Israel and the Hamas-ruled Palestinian enclave. Just over a week ago, an explosion was heard in the eastern portion of the Gaza Strip, in the vicinity of the area in which two explosive devices detonated two days before
The incident marked the fifth time in three months a device was detonated near the Gaza fence.
The latest rocket attack is the first to have taken place since the beginning of February, when a rocket exploded in open territory inside Israel. No one was injured. In response, the IDF attacked a Hamas observation post in the northern Gaza.
Matan Tzuri, Elisha Ben Kimon and Yoav Zitun contributed to this report.