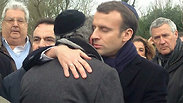 President Macron at the funeral
Macron attends funeral of slain Holocaust survivor
French president pays respects to 85-year-old Mireille Knoll, who was stabbed 11 times in her home in the capital before her killer burnt her apartment; 'He murdered an innocent and defenseless woman purely because she was Jewish', says Macron, as march held in protest against anti-Semitism.
PARIS - French President Emmanuel Macron participated in the funeral Wednesday of Mireille Knoll, an 85-year-old Jewish Holocaust survivor who was stabbed to death last week in her apartment in Paris, before her home was set on fire in what was believed to be an anti-Semitic attack.

The attack shocked France, and thrust the Jewish community into a state of renewed fear and anger at the surge in anti-Semitism that the country has experienced in recent years.

"He murdered an innocent and defenseless woman purely because she was Jewish," President Macron said at a ceremony at the Hotel des Invalides. "In doing so, he struck our sacred values and our history."


As the funeral took place, marches against anti-Semitism across France were held, in which thousands participated, including the Mayor of Paris Anne Hidalgo and Jewish community leaders. Imams also marched in solidarity with the Jewish community.

"I am here as a civilian, and I called on all elected state officials from all sides of the political spectrum to unite for the a human cause. The surge in anti-Semitism is totally unacceptable," she said.

After delivering his remarks at a tribute ceremony for Lt. Col. Arnaud Beltrame who was murdered in last week's extremist attack in southern France, Macron continued on to pay his respects at Knoll's funeral.

March against anti-Semitism in France (צילום: רויטרס)

The mass march in Paris began at 7 pm (Israel time) and concluded at the Knoll's home in the French capital's 11th arrondissement, with marchers carrying flowers and scarfs with the colors of the French flag.

The march, which was attended by around 30,000 people, was also joined by far-right French leader Marine Le Pen, who insisted in standing in solidarity with the Jewish community despite criticism from France's leading Jewish group.

Le Pen, however, was unwelcome at the march and was greeted with jeers from the crowds who surrounded her and her cohorts, screaming slurs including "Nazi," "fascist" and calls to "go away."

The persona non grata political leader however, was not treated with contempt by Knoll's son. "I asked that anyone who can come here come, even if it isn't so comfortable for some people," he said.

The left-wing French politician Jean-Luc Mélenchon was also unwelcome at the march. "I am where every French person should be," he said despite the hostility of the crowds.

"It is an abhorrent act that happened to a helpless woman and we are all obligated, from every party, to join this march in solidarity."



Former French prime minister Manuel Valls also joined the marchers. "It is extremely important that many people came, but the most important thing at the moment is to act against anti-Semitism," he said.




Tensions heightened when a few of the marchers tried to attack the unwanted politicians, who were spirited away from the emotional crowds by police forces.

"It is a disgrace that they attacked someone who came to participate and to show solidarity," said one eye witness.