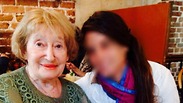 Mireille K. (L)
Photo courtesy of the family
Elderly Parisian Holocaust survivor found stabbed in burnt home
Police arrest suspect for murdering 85-year-old Holocaust survivor and setting her apartment alight; she previously complained to authorities neighbor threatened to burn her; Jewish community fears incident was hate crime; incident comes on heels of kosher supermarket being torched in January of this year.
Paris police attempted to ascertained Sunday who stabbed an elderly Jewish woman to death in her apartment in the French capital's 11th arrondissement and then set fire to the property.

The elderly woman, 85-year-old Mireille K., was found dead in her home Friday evening by firefighters at around 6:30pm local time who were called in to put out a fire.

The woman's body was found to have been riddled with 11 stab wounds, and it was clear to the firefighters that the fire was the result of arson, with the unknown arsonist setting fire to five different points in her apartment.

Suicide was ruled out by police, and the Parisian Jewish community fears the murder may have been motivated by anti-Semitism. The woman previously complained to authorities that one of her neighbors threatened to burn her, according to reports.

French media also said the woman was a Holocaust survivor and that police have arrested a suspect, whose identity was not released to the public.

A worrying trend of rising anti-Semitism and anti-Semitic incidents have been reported in Europe in general and France in particular. A kosher supermarket was put to the flame in January of this year, three years after the terror attack at the city's Hypercacher supermarket that claimed the life of four Jewish people, carried out by an Islamic State-inspired terrorist.

It was reported in September of last year that a Jewish family was attacked in their home by unknown assailants. They tied the family up and made their getaway with a significant amount of property.

In April of last year, another Jewish woman was killed in France, when she was pushed out of a third floor window by her Muslim neighbor.