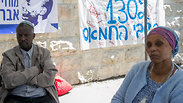 Mengistu's parents
Photo: Ohad Zwigenberg
Dozens of activists for the release of Avera Mengistu, who is being held in Gaza for 1,303 days, protested outside the Prime Minister's residence in Jerusalem on Sunday, once again calling on the government to work to secure his release.

"We're celebrating the holiday of freedom. This is a chance for a man to go free. My brother has been in Gaza for three and a half years now, and we don't know what's going on with him," said Ilan Mengistu, Avera's brother.

The activists were wearing T-shirts that said, among other things, "Avera is still alive," and put up signs that said "Freedom for Avera," "Love your neighbor as yourself" and a big sign marking the number of days he is being held in captivity.

"We, the family, set up a protest and solidarity tent. We came here to remind the prime minister and members of cabinet that they have forgotten about an Israeli citizen who is rotting in captivity, and no efforts are being made to return him home," Ilan Mengistu said.

"We received no sign of life from him. He's a helpless man who accidentally crossed the border. The state needs to use the relevant bodies—such as human rights activists and the international community—to bring him home, and it is not doing so."

Agernash Mengistu, Avera's mother, said, "This is a holiday with a lot of crying. I miss the laughter and joy, and because Avera is not home, it's hard for me to make everyone happy and have a holiday atmosphere. I want the prime minister to bring back my son. We waited for the state to do something and give us an update, but nothing has happened. Avera is not part of the discourse. His suffering must stop."

"From the beginning, we spoke to the prime minister and we said the state must demand fairness and reciprocity," Ilan added. "It cannot be that Hamas prisoners get family visits every two weeks and get to hug their children, while we have no information about his situation."