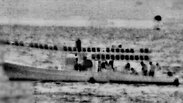 Navy arrests suspects
Photo: IDF Spokesman's Office
Islamic Jihad member charged with planning attack on Israeli Navy
Amin Jamaa, fisherman from Rafah, was collecting information on Israeli vessels for the Palestinian Islamic Jihad in preparation for an attack; the terror group planned to distract Navy with one boat, fire a missile from another, and use a third to abduct soldiers.
A Palestinian Islamic Jihad member was indicted Wednesday morning for gathering intelligence for a planned attack on an Israeli Navy ship, with the aim of abducting Israeli soldiers.

On March 12, an Israeli Navy vessel stopped a Palestinian fishing boat and arrested the 10 people on board during routine operations off the Gaza coast after the boat was seen sailing outside the permitted fishing zone.

One of the suspects, Amin Saadi Muhammad Jamaa, a 24-year-old fisherman from Rafah, is a member of the Palestinian Islamic Jihad.

Arrest of the terror cell (צילום: דובר צה"ל)

The nine other suspects, also Palestinian fishermen, were questioned and released. Israeli troops did not find any weapons on the boat.

In August 2017, Jamaa was offered $5,000 to carry out the attack, which among other things was meant to be an act of revenge after the IDF destroyed an Islamic Jihad cross-border tunnel, killing several of its militants.

On instructions from his Islamic Jihad commander Ahmad Maqdad, Jamaa allegedly took part in the planning of an attack against an Israeli Navy vessel, that would've been carried out by six Islamic Jihad members in three boats.

During Jamaa's interrogation, the Shin Bet learned the plan was to use one boat for deception. While the Navy vessel would have turned its focus on the deception boat, another boat would have attacked the Navy ship, launching a Kornet guided missile at it, killing and wounding the soldiers on board.

A third boat would have then drawn near to the Navy ship in an effort to abduct one or several of the soldiers on board, so they could be used as bargaining chips in a future prisoner exchange deal.

The Shin Bet investigation also found that as part of his preparations for the attack, Jamaa observed Navy ships on several occasions between August 2017 and March 2018, while sailing in his family's fishing boats. He gathered information about the Navy vessels' locations, the number of soldiers on board and what weapons they had, taking pictures of the ships with his cellphone.

Jamaa received a certification of appreciation from Islamic Jihad with several questions written on it concerning the Israeli Navy vessels' operations.

When asked how many soldiers were on board the Navy's patrol boat, he responded 12—six awake and six asleep, with one soldier stationed at the machine gun.

When asked how far a fishing boat could come near a Navy ship, he answered some 300 meters. He also timed how long it would take a fishing boat to make its way from the shore to a certain spot at sea—15 minutes.

Jamaa even noticed the soldiers were watching any fishing boat approaching them, and advised his Islamic Jihad operator to send the second boat to surprise the Navy vessel.

The indictment noted that five years ago, Jamaa smuggled 500 kg of explosives from Egypt to Gaza at the request of a Hamas member.

A statement from the Shin Bet and IDF said, "This is another link in a chain of terror attacks planned and initiated by Islamic Jihad in the Gaza Strip in recent months, including a cross-border attack tunnel that was neutralized on October 30, 2017, the firing of mortar shells at Israel on November 30, 2017 and December 28, 2017, and more."

Jamaa denied on Wednesday the crimes attributed to him, saying "I didn't want to blow up the boats, this wasn't my intention."

His lawyer claimed the state "has very much exaggerated the facts. My client may have confessed to the allegations, but not as they are presented in the indictment."

"He wasn't an Islamic Jihad member, but a fisherman who was paid. It's true he was caught with his phone taking pictures of the Navy's Dabur-class patrol boat, but not to carry out an attack," the lawyer, Muhammad Jabarin, added.

Daoud Shehab, an Islamic Jihad spokesman, said he had no information about the Israeli announcement but that his group was involved in "open confrontation" against it.

"It's also our right to look for suitable ways to force Israel to release Palestinian prisoners," he added.

Defense Minister praised Jamaa's capture, saying "Once again the IDF and the Shin Bet have prevented a terror attack against our forces. The challenges on the Gaza border are varied and complex. The people of Israel have someone to rely on. I hope this time, our friends from the Left won't demand a commission of inquiry."

Prime Minister Benjamin Netanyahu also praised the Shin Bet and IDF, saying "The security forces will act in any arena to protect the State of Israel and our citizens."

"This is proof of the true intentions of the terror organizations in Gaza, who are trying to disguise their murderous intentions by organizing provocations on the border fence," he added.

Despite the rising tensions on the Gaza border, the Israeli Navy is making preparations for the expansion of the permitted fishing zone off the coast of Gaza—from six nautical miles to nine. The change will go into effect in mid-April, after Passover, and will remain in place for three months.