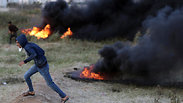 Tire burning at Gaza border protests
Photo: AP
The planned continuation of protest on the Gaza border on Friday, named "Tire Friday" by Hamas, who control the coastal enclave and are orchestrating the demonstrations, may cause ecological damage in the area due to the planned burning of thousands of tires the terror organization says will be used to obscure the vision of IDF soldiers.

While there are few several groups in Gaza who are actually opposed to the serious ecological risk this poses, no change is expected in the protest.

Video promoting Hamas' tire burning campaign

Fearing environmental damage, the Coordinator of Government Activities in the Territories, Major General Yoav Mordechai, sent a letter to the head of the World Health Organization, in which he urged him to speak against the "ecological catastrophe" likely to be caused.

"The Hamas terrorist organization, which controls the Gaza Strip, has issued an order to burn about 10,000 tires this Friday along the border with Israel," he wrote. "The burning of tires in such a huge quantity will cause severe damage to the ecosystem in the area, will severely harm the life, the flora and health of the residents, and will add to the severe damage to the aquifer and lead to unprecedented air pollution.


"I call upon you, as the head of an international organization whose goal is to promote health and protect natural and environmental resources, to do everything in your power to publicly warn against this ecological catastrophe and to protest Hamas' irresponsible behavior."

More than a dozen rioters were killed last Friday by sniper fire in clashes with the IDF, forcing protesters in upcoming border rallies to employ smoke, as well as mirrors, to blind Israeli forces.

IDF Spokesman Brig. Gen. Ronen Manelis said on Saturday that Hamas was using the protests as a guise to launch attacks against Israel and ignite the area. He said Israel will target terror organizations in Gaza if the violence drags on.