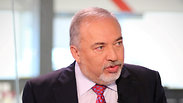 Defense Minister Avigdor Lieberman
Photo: Avi Mualem
Lieberman: 'Anyone flying drone over IDF soldiers is endangering himself'
After death of Palestinian journalist Yaser Murtaja in Gaza border clashes, defense minister says there were dozens of cases in which Hamas members dressed up as journalists among the rioters, stressing 'We won't take any risks.'
Defense Minister Avigdor Lieberman on Saturday addressed the death of a Palestinian journalist who was wounded during clashes on the Gaza border the previous day, arguing that "Anyone who operates multirotor drones over IDF soldiers needs to understand he is endangering himself."

"What we saw over the past two weeks is a parade of terrorism," Lieberman said during Mimouna celebrations in Ashkelon. "Members of Hamas's military wing, dressed as civilians, tried to hurt Israel's citizens and its sovereignty, and we won't allow it."

"We saw dozens of cases in which Hamas terrorists used ambulances, dressed up as Red Crescent workers, and dressed up as journalists," he continued. "We won't take any risks."

"The IDF is the most moral army in the world," the defense minister added. "In the entire region, half a million were murdered in Syria, hundreds of thousands were murdered in Yemen, Libya and Iraq. No one notices. Only when we are acting in self defense against terrorism—then everyone cry out. We need to stand strong and sharp."

Journalist Yaser Murtaja, 30, worked for several Palestinian media bodies, including Ain Media, a local production company providing materials for foreign press services, including drone footage of the strip. He was a supporter of Hamas and never left Gaza.

Photos showed Murtaja lying wounded on a stretcher wearing a navy-blue protective vest marked 'PRESS' in large black capital letters. Health officials said a live bullet had penetrated the side of his abdomen and he succumbed to his wounds in hospital.

Palestinian officials claimed he was shot despite standing some 100 meters from the border fence.

Hundreds of mourners, among them many journalists, attended Murtaja's funeral Saturday and voiced their fury at the circumstances of his death.

The Palestinian press association denounced Murtaja's killing, and announced plans to contact the International Court of Justice in The Hague regarding the matter. Joint List MK Ahmad Tibi, meanwhile, wrote on his Facebook page, "Israel assassinates journalists. He dreamed of photographing Gaza from the air—and became a martyr."

The IDF said a probe into the incident was launched. "The IDF does not intentionally fire on journalists. The circumstances in which journalists were hit, allegedly by IDF fire, are unknown to us and are being examined," the IDF Spokesperson's Unit said in a statement.

The IDF has been warning Gazans for weeks not to approach the border fence.

"The IDF uses means such as warnings, riot dispersal means, and as a last resort firing live rounds in a precise, measured way. The IDF is committed to preventing infiltration into Israeli territory and threats against IDF troops and Israeli civilians," the military's statement said.