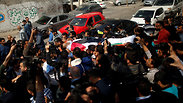 Hundreds attend funeral of 'assassinated' Palestinian journalist
Journalist Yaser Murtaja, wounded in Friday's protests along the Gaza border, succumbed to his wounds and passed away; Palestinian claim he was hit by IDF fire, with the Palestinian press association saying it will contact the ICJ in The Hague; MK Tibi: 'Israel assassinates journalists. He became a martyr'; IDF: Inquiry underway.
A Palestinian journalist died on Saturday after being wounded by Israeli fire on Friday while covering deadly protests along the Israel-Gaza border, health officials said.

Murtaja, 30, a cameraman for Palestinian Ain Media, was the 29th Palestinian killed in the week-long protests. Nine Palestinians were killed during Friday's clashes, while some 500 were wounded.

Footage of Yaser Murtaja receiving medical attention (רויטרס)

Photos showed Murtaja lying wounded on a stretcher wearing a navy-blue protective vest marked 'PRESS' in large black capital letters. Health officials said a live bullet had penetrated the side of his abdomen and he succumbed to his wounds in hospital.

Palestinian officials claimed he was shot despite standing some 100 meters from the border fence.




The IDF said a probe into the incident was launched. "The IDF does not intentionally fire on journalists. The circumstances in which journalists were hit, allegedly by IDF fire, are unknown to us and are being examined," the IDF Spokesperson's Unit said in a statement.


Murtaja was married with a two-year-old son. Hundreds of mourners, among them many journalists, attended Murtaja's funeral Saturday and voiced their fury at the circumstances of his death.

His body was covered with a Palestinian flag and his press jacket laid beside him on the stretcher as it was carried through the streets of Gaza City to his home for a last farewell.

Ismail Haniyeh, the head of Gaza's Islamist rulers Hamas, attended the funeral, AFP journalists said.

Haniyeh said journalists were attacked by Israel while trying to show a "true picture of a blockaded, downtrodden people".

"I made him breakfast, he ate quickly, he was in a hurry to go to work," said Murtaja's mother, Yusra, recounting the morning of the protest.

"I thought he would recover from his injury, I didn't expect his death, but God has chosen him as a martyr, thank God," she said, sitting on the ground as mourners came to the house to pay their respects.

The Palestinian press association denounced Murtaja's killing, and announced plans to contact the International Court of Justice in The Hague regarding the matter. Joint List MK Ahmad Tibi, meanwhile, wrote on his Facebook page, "Israel assassinates journalists. He dreamed of photographing Gaza from the air—and became a martyr."

Reporters Without Borders (RSF) Secretary-General Christophe Deloire condemned what the group described as Israel's disproportionate response and called for an independent investigation into the incident.

In the West Bank city of Ramallah, around 50 Palestinian journalists held a vigil for Murtaja.

Murtaja worked for several Palestinian media bodies, including Ain Media, a local production company providing materials for foreign press services, including drone footage of the strip. He was a supporter of Hamas and never left the strip.

The protests began on March 30 along the Israel-Gaza frontier with daily demonstrations dubbed "The Great March of Return." Israel has stationed sharpshooters to stop attempts by Palestinians to breach the border or sabotage the security fence.

Freelance photographer Ashraf Abu Amra told Reuters he was next to Murtaja, whom he said was wearing a helmet and protective vest. Abu Amra said they were both clearly marked as journalists.

"We were filming as youths torched tires. We were about 250 meters from the fence," said Abu Amra. "Israeli forces opened fire and injuries began. Yaser and I ran to film when suddenly Yaser fell to the ground.

"I screamed to him 'Yaser, are you alright?'. He didn't respond and there was blood on the ground underneath him. I knew it was a bad injury and people carried him away," said Abu Amra.

His brother Motazem, also a journalist, said he was next to him when he was shot. "The target was very clearly journalists," he said.
Journalist evacuated to hospital in serious condition
Video footage showed Murtaja being placed in an ambulance with crowds around and black smoke billowing in the distance, where protesters had set tires alight.

Israel Radio, citing an unnamed source in Gaza, said Murtaja had been operating a camera drone on Friday. Abu Amra and two other Palestinian journalists said Murtaja was not operating a camera drone when shot.

Murtaja, on his Facebook page, had posted two aerial photos taken at the border in the past week. It was unclear if he had taken them himself.

At least five journalists were wounded on Friday in other locations, Gaza officials said. There have been no Israeli casualties in the protests so far.

Israel's response to the protests has drawn international criticism, with human rights groups saying it involved live fire against demonstrators posing no immediate threat to life.

Israel says it is doing what it must to defend its border and its troops have been responding with riot dispersal means and fire "in accordance with the rules of engagement."

The European Union in a statement said the killings raised serious questions about the use of force. It added reports by Israel of stones and fire-bombs being thrown along with attempts to cross the fence into Israel "must also be clarified."

Israel says it has been warning Gazans for weeks not to approach the border fence.

"The IDF uses means such as warnings, riot dispersal means, and as a last resort firing live rounds in a precise, measured way. The IDF is committed to preventing infiltration into Israeli territory and threats against IDF troops and Israeli civilians," the military's statement said.

Yoav Zitun and AFP contributed to this report.