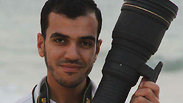 Head of the Operations Directorate's Instruction and Doctrine Division, IDF Brigadier General Motti Baruch, will head a panel tasked with examining and investigating the events on the Gaza Strip border during the past two weeks, in which a total of 30 Palestinians were killed, it was announced Sunday.

The investigation will examine the army's response to the border protests and mainly focus on several incidents deemed to be worthy of an inquiry, such as the death of journalist Yaser Murtaja, who was reportedly shot by Israeli soldiers while wearing a navy-blue protective vest marked 'PRESS' in bold capital letters.



Murtaja's death sparked a public uproar in Gaza, as Palestinian officials claimed he was shot despite standing some 100 meters from the border fence. "The IDF does not intentionally fire on journalists," The IDF responded. "The circumstances in which journalists were hit, allegedly by IDF fire, are unknown to us and are being examined."

The panel's investigation will be similar in nature to other probes the IDF carried out, such as ones that examined abnormal incidents that took place during Operation Protective Edge, and the 2015 death of a UNIFIL peacekeeper in crossfire between Israel and Lebanon.

IDF officials stressed that the panel was formed to help IDF soldiers avoid prosecution in the International Criminal Court at The Hague and should not be interpreted to mean that their actions were in some way unwarranted.

"The investigation will work to back the troops," emphasized an IDF officer.

Baruch will be is assisted by the Military Advocate General, Brigadier General Sharon Afek. Only at the end of the examination will it be decided whether to open Military Police investigations.

Tensions near the border have risen in recent weeks following the Hamas-sponsored protests there, calling for Israel to lift its "siege" of the enclave and recognize the Palestinian people's right of return to what is now Israeli territory.

On Friday, some 20,000 Palestinians demonstrated at the Gaza border in a protest that soon devolved into day-long rioting. In total, nine Palestinians were killed as a result of ensuing clashes with Israeli forces that day, two of them—including Murtaja—succumbing to their wounds early Saturday morning.

According to official Palestinian sources, two of the nine casualties were youths aged 16 and 17. The sources claim more than 400 were injured in the clashes.

Both the number of attendees and the number of deaths were lower than in the inaugural Great March of Return protest on the Friday prior to that, when 30,000 residents of Gaza marched at the border and 18 died in following clashes with The IDF.