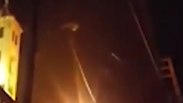 Russia accuses Israel of launching overnight airstrike on Syrian airbase
Hours after US denies attacking T-4 airbase near Homs—despite Trump's warning of a 'big price' to be paid by Assad for chemical weapons attack on civilians—Moscow fingers Jerusalem as the culprit behind launching of 8 missiles, says Syrian air defenses shot down five.
Russia accused Israel Monday of carrying out overnight airstrikes on an airbase in central Syria, just hours after the United States disavowed responsibility for the attack, which reportedly claimed 14 lives.

The state broadcaster earlier said explosions were heard at the T-4 airfield near Homs, which is close to the ancient city of Palmyra in central Syria.

Footage of airstrike

A Syrian military source was originally quoted as saying air defenses shot down eight missiles fired at the base, also known as the Tiyas Airbase, where defense analysts say there are large deployments of Russian forces, and where jets fly regular sorties to strike rebel-held areas.

Later on a Russian statement said, "Syrian air defense intercepted five out of eight missiles that were fired from Lebanese airspace."

"An aggression was perpetrated on T-4 air base in several strikes that is most likely to be an American attack," Syrian state television said in a news flash before Russia pointed the finger at Israel.

Later on, Syrian state media, citing a military source, said that Israeli F-15 war planes had conducted the attack.

"The Israeli aggression on the T4 airport was carried out with F-15 planes that fired several missiles from above Lebanese land," state news agency SANA said.

Moreover, the Lebanese Al Mayadeen television channel quoted a Russian MP who claimed that his country had asked the Israeli defense and foreign ministries to explain the reasons for the attack on the T-4 airbase.

Russian experts interviewed by Al Mayadeen claimed that the Israeli attack was coordinated with the United States.

The US Pentagon said it was not conducting air strikes in Syria "at this time," formally denying the Syrian state television report.

According to the Syrian Observatory for Human Rights (OSDH), at least 14 military personnel, including Iranians, were among those killed in the strike that took place shortly before dawn. Two were later said to be Iranian officers.

When asked about the explosions, an Israeli spokeswoman declined to comment.

According to a Russian news agency report, the Russian military said that two Israeli war planes carried out the attack from Lebanese airspace with eight missiles, five of which it said that the Syrian air defense system had shot down.

Israel has struck Syrian army locations many times in the course of the conflict, hitting convoys and bases of Iranian-backed militias that fight alongside Syrian President Bashar al Assad's forces.

An intelligence source based in the region said he did not rule out an Israeli strike on the base.

Israel had previously said Syria had allowed Iran to set up a complex at the base to supply its ally, the Lebanese militant Shiite group Hezbollah, with weapons.

The Israeli military last February accused Iranian-backed militias of operating at the base, from where it said an Iranian drone, shot down over northern Israel, had been launched.

Israel has long said Iran was expanding its influence in a belt of territory that stretches from the Iraqi border to the Lebanese border, where Israel says Iran supplies Hezbollah with arms.

Hezbollah and other Iranian-backed militias have a large military presence in Syria and are well entrenched in central and eastern areas near the Iraqi border.

The T-4 base has most recently been used by Iranian-backed militias. It was constructed in a strategic location next to Syrian gas fields and was controlled by the Islamic State until President Bashar al-Assad's army moved in, supported by Russian forces.