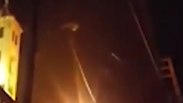 Screenshot of footage of attack
US officials: Israel struck Syrian airbase, informed us beforehand
Hours after US denies launching airstrike on T-4 airbase in central Syria, and shortly after Russia points finger directly at a reticent Israel, senior American officials confirm Israeli jets carried out the bombing, informed the White House earlier.
Senior US government officials confirmed Monday that Israeli fighter jets carried out the airstrikes on an airbase in central Syria and informed the White House of its intentions beforehand, according to NBC news,

The two officials told the US news outlet just hours after Washington disavowed responsibility for the attack, which reportedly claimed 14 lives.

Meanwhile, Israel refused to comment on bombing that took place near the ancient city of Palmyra, declining to confirm the American claims.

According to the Syrian Observatory for Human Rights (OSDH), at least 14 military personnel, including Iranians, were among those killed in the strike that took place shortly before dawn. Two were later said to be Iranian officers.

A Syrian military source was originally quoted as saying air defenses shot down eight missiles fired at the base, also known as the Tiyas Airbase, where defense analysts say there are large deployments of Russian forces, and where jets fly regular sorties to strike rebel-held areas.

Later on, a Russian statement said, "Syrian air defense intercepted five out of eight missiles that were fired from Lebanese airspace."

"An aggression was perpetrated on T-4 air base in several strikes that is most likely to be an American attack," Syrian state television said in a news flash before Russia pointed the finger at Israel.

Russian defense and foreign ministers made inquiries via their Israeli counterparts regarding the air strike on the airbase, requesting they provide "explanations" for the attack Moscow says Israel carried out without informing it ahead of time, Senator Vladimir Jabbarov told Iranian media Monday.

Dmitry Peskov, spokesman for Russia's President Vladimir Putin, told reporters that Israel had not spoken to the president ahead of the air strike even though there may have been Russian military advisers at the base, which he described as "a cause for concern for us."