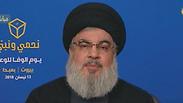 Hezbollah Secretary-General Sayyed Hassan Nasrallah pointed on Friday to an Israeli air strike against a Syrian air base that killed some Iranian Revolutionary Guards, saying it opened the prospect of conflict between the two enemy states.

"They have committed a great folly and have put themselves into a direct fight with Iran," the leader of heavily armed and Tehran-backed Shi'ite terror organization said in a televised speech, calling the strike "unprecedented."

Israel has struck targets in Syria numerous times in recent years, sometimes to prevent Iranian weapons transfers to Hezbollah, which it sees as the biggest threat on its borders. Iran and Hezbollah are two of Assad's chief allies.

"Iran is neither a small country, nor a weak country, nor a cowardly country—and you know it. This event was critical for the area," he stressed. "You have opened a new axis in a struggle that you do not judging right. You are in a face-to-face confrontation with Iran."

Trump has threatened strikes against Syria after a suspected gas attack on the town of Douma where dozens of people died, and a Russian envoy has voiced fears of a wider conflict between Washington and Moscow.

However, the White House said "no final decision has been made" on Syria after Trump met his national security team on Thursday. Nasrallah said in his speech that under Trump, US policy was inconsistent and hard to understand.

Earlier that day, though, Hezbollah played down the risk that the Syrian crisis would spiral into a US-Russian military conflict.

The Shi'ite movement has been a vital military ally of President Bashar al-Assad in the seven-year-old Syrian war.

"We rule out the situation developing into a direct American-Russian clash or a wide state of war," said deputy Hezbollah leader Sheikh Naim Qassem, although this depended on the behavior of US President Donald Trump and Israeli Prime Minister Benjamin Netanyahu.

"The conditions do not point to a total war ... unless Trump and Netanyahu completely lose their minds," he told the Lebanese daily al-Joumhouria in remarks published on Friday.
Israeli strike
Damascus has accused rebels and rescuers of fabricating reports of the Douma attack and Washington of seeking to use it as a pretext for attacking the Syrian army.

Asked about possible spillover into Lebanon, Qassem said: "If the assault on Syria has a very limited scope, then it's expected that reactions from the concerned sides in Syria will be tied to the Syrian arena."

Iran's expanding power in Syria has caused deep alarm in Israel, which has mounted air strikes in Syria against what it describes as Hezbollah and Iranian targets.

Tehran has threatened to respond to the air strike on a Syrian military base on Monday which it blamed on Israel, as did Damascus and Moscow.

Qassem said the strike, which killed seven Iranians, was an assault "on both Syria and Iran that has consequences which I do not know the limit of now."

Hezbollah, which last fought a major war with Israel in 2006, would not open a new front against its arch-foe from Lebanon, he said. "But the resistance is ready for surprises."

Hezbollah does not expect Israel to launch a war for now but is prepared for one, Qassem told Reuters in an interview last month.