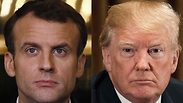 French President Macron (L) and President Trump
Photo: AFP
WH disputes French assertion for US to remain in Syria
While French President Macron claimed he convinced President Trump to stay in Syria before strike on chemical weapons facilities, WH spokeswoman says US mission unchanged, forces to come home 'as quickly as possible'; 'Crushing IS still a priority,' she adds, but regional allies need to take larger role.
The White House said Monday President Donald Trump still wants US troops to exit Syria as soon as possible, after the French president said he persuaded Trump to stay in Syria and launch airstrikes as punishment for an alleged chemical-weapons attack.

White House spokeswoman Sarah Huckabee Sanders said in a statement, "The US mission has not changed—the president has been clear that he wants US forces to come home as quickly as possible."

She added that the US still wants to "crush (the Islamic State)" and expects regional allies to help securing the region.

French President Emmanuel Macron said Sunday on French television BFM and online site Mediapart that, "Ten days ago, President Trump wanted to withdraw from Syria. We convinced him to remain."

Calling the strike on Syria "perfectly executed," President Trump tweeted, "Mission accomplished." The American Defense Department echoed the commander-in-chief's words, saying the Syrian chemical weapons program was set back a decade.

The Pentagon stressed, however, that Washington was uninterested in a confrontation with Syria, but that rather the strike's goal was to deter the regime of Syrian President Bashar al-Assad from any further use of chemical weapons.
British PM May to tackle criticism at home
British Prime Minister Theresa May will face criticism on Monday for bypassing parliament to join weekend air strikes against Syria, with some lawmakers calling for a potentially damaging vote on her future strategy.

May, who has regained confidence after winning support for her tough stance on Syria and Russia, will make a statement to parliament on her decision to join the United States and France in Saturday's strikes in retaliation for a suspected gas attack.

She will repeat Saturday's assertion that Britain was "confident in our own assessment that the Syrian regime was highly likely responsible" and that it could not wait "to alleviate further humanitarian suffering caused by chemical weapons attacks", according to excerpts of her speech.

But she will be grilled over why she broke with a convention to seek parliamentary approval for the action, a decision that she and her ministers say was driven by the need to act quickly.

Much of the criticism will come from opposition lawmakers, but the prime minister may also have to work hard to defend her speed of action to members of her own Conservative Party who had wanted parliament recalled.

Jeremy Corbyn, leader of the main opposition Labour Party, has questioned the legal basis for Britain's involvement.

"She could have recalled parliament last week ... or she could have delayed until tomorrow, when parliament returns," Corbyn, a veteran peace campaigner, said on Sunday.

"I think what we need in this country is something more robust, like a War Powers Act, so governments do get held to account by parliament for what they do in our name," he told the BBC's Andrew Marr Show.

Britain has said there are no plans for future strikes against Syria, but Foreign Minister Boris Johnson warned President Assad that all options would be considered if chemical weapons were used against Syrians again.

The Associated Press and Reuters contributed to this report.