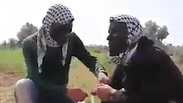 Wheat field set ablaze by Palestinian 'kite terrorism'
For third time in as many days, incendiary kite flown from Gaza border into Israel; Monday's incident set fire to Sha'ar HaNegev wheat field; growing use of kites encouraged by Palestinian confidence they will not be aerially targeted by IAF; on related matter, Israel hits Gaza bus companies with sanctions over ferrying protesters to fence riots.
Palestinian terrorists set fire to a wheat field in the Sha'ar HaNegev Regional Council Monday afternoon by flying a kite laden with combustible materials across the border from Gaza. There were no casualties reported.

Monday's incident marked the third time in as many days such incidents took place near the Gaza Strip border fence. At least two kites were flown from Gaza into Israeli territory Saturday and Sunday, causing fires in their wake—the last of which was ignited in the Kissufim Forest in the Eshkol Regional Council.

Palestinian footage of terrorists flying incendiary kites

The IDF is monitoring the new, quickly growing trend. Farmers and security personnel from the Israeli comminutes adjacent to the Gaza border were asked to be particularly alert to the phenomenon and and call in firefighting teams if necessary.

While incendiary kites are far from a new invention, their use in the past has been sporadic at best. It gained steam in the past week, however, when Palestinian began using them as part of the Great March of Return campaign.

Protesters near the border have also made judicious use of tires in recent protests, setting them ablaze to obscure visibility for IDF snipers while causing severe air pollution in their wake.

The kite method may have been selected because the terrorists operating them feel relatively safe doing so, based on the assumption the IDF will not target them aerially. They are, however, operating the kites from behind earthen batteries out of fear of being hit by snipers on the ground.

The relative success of kites in causing damage to the Israeli side has naturally emboldened the Palestinians in their use, with arsonists attempting to aim them at swaths of land where brush fires could be created or at IDF outposts near the border.

Due to the wind naturally blowing on a west-to-east vector, fires caused by the kites do not cross over the border into the strip.
Sanctions levied on 14 Gaza transport companies
On a matter also related to recent protests, Coordinator of Government Activities in the Territories (COGAT) Maj.-Gen. Yoav Mordechai announced sanctions on 14 Gaza transportation companies whose vehicles were used to ferry Hamas members and other rioters to the border region.

"As we have warned, sanctions will be levied on company owners, and neither they nor their families will receive privileges. Every link of theirs to Israel will be cut off," COGAT said.

Violent riots on the strip's border this past Friday led to the death of a 28-year-old Palestinian man in clashes with IDF forces. Some 10,000 Palestinians participated in the riots, which centered around five hotspots.

The IDF communicated that several attempts to damage or cross the security barrier were made, including an explosive device placed in the vicinity of the Karni crossing, near Gaza's Shuja'iyya neighborhood. The device detonated on the Palestinian side and has apparently wounded several protesters.

Protests at the border were less severe than in previous weeks, with thousands of rioters throwing stones and burning tires. Palestinians also brought a large Israeli flag to one of the protest's centers and trampled it, intending to burn it as well as other flags.

The IDF said forces on the ground deployed crowd control measures and fired live rounds at main instigators. No damage will be allowed to be caused to security infrastructures or the fence, the army added, and violent rioters and terrorists involved in such actions will be dealt with.

"Tell Israel to wait until May 15, when the fighting Palestinian rebellion will break out and nothing will stop it. Wave after wave, until we meet in Jerusalem," Hamas's Gaza deputy leader Khalil al-Hayya said, referring to Nakba Day, to be commemorated next month when the March of Return campaign reaches its apex.

In his remarks, al-Hayya ignored news earlier in the day of the IDF destroying a Hamas terror tunnel on the Gaza-Israeli border.