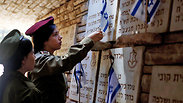 Mount Herzl memorial hall
Photo: Reuters
Israel commemorates Memorial Day
A nation bows its head in mourning the loss of 23,646 fallen soldiers, security forces members and terror victims; state ceremonies to commence at 11am at Mount Herzl and Kiryat Shaul after 2-minute siren, with memorial services taking places in cemeteries and monuments across the country.
Israel is honoring the memories of 23,646 fallen soldiers, security forces members and terror victims on Wednesday, Memorial Day.

According to the Family, Commemoration and Heritage Wing of the Ministry of Defense, some 1.5 million people are expected to visit the 52 military cemeteries, hundreds of military plots and thousands of graves across the country on Memorial Day.

The day's events will begin at 11am with a two-minute siren in memory of the fallen. Following the siren, the state memorial ceremony will commence on Mount Herzl, for the first time taking place in the new memorial hall unveiled last year.

The state ceremony will be attended by President Reuven Rivlin, Prime Minister Benjamin Netanyahu, Knesset Speaker Yuli Edelstein, Supreme Court Chief Justice Esther Hayut, IDF Chief of Staff Gadi Eisenkot, Police Commissioner Roni Alsheikh and the top brass of the defense establishment.




Also at 11am, a memorial service will take place at the Kiryat Shaul military cemetery in Tel Aviv, attended by Defense Minister Avigdor Lieberman.




A memorial ceremony for terror victims will take place at 1pm on Mount Herzl.

The Defense Ministry has organized hundreds of buses and shuttles to transport bereaved families to the military cemeteries, while its commemoration wing personnel will lay 135,000 wreaths on graves.

Hundreds of thousands of water bottles will be handed out to families and members of the general public visiting the cemeteries. Magen David Adom will deploy 132 mobile units to cemeteries.

For the first time, all memorial candles will be lit at the Mount Herzl memorial hall. Aryeh Mualem, the head of the Defense Ministry's commemoration wing, said that "the vision that led to the construction of the hall was born of a need of bereaved families, who approached me over the years asking to ensure the memory of the fallen would never be forgotten. It was my moral duty to grant their request."

At 9am, memorial services will be held at Jerusalem Brigade monuments in Yemin Moshe, Abu Tor, Ramat Rachel, Armon HaNetziv, and in the Peace Forest. A memorial service at Safra Square in the capital will begin at 9:15am, with Jerusalem Mayor Nir Barkat in attendance. A wreath-laying ceremony will be held at 12pm at the Mitzpor Haarbaa monument.
Haifa students visit school graduates' graves
Over the past few days, family and friends have visited cemeteries across the country, cleaned the graves of their loved ones and laid flowers.
Students from Haifa schools visited the graves of school graduates who were killed in Israel's wars as part of a special commemoration project. Some of the graduates were killed 70 years ago and have no living relatives to visit their graves.
Tawil, a student at the Alliance High School in Haifa, was sitting at the grave of Avinoam (Avik) Greenhois, who was killed in 1948 at the age of 16. Along with a classmate, Tawil read out the story of his life and his death.
"The guy who is buried here was wounded, and when he got to the hospital he told the doctors not to worry his parents and not to call them. Five hours later he passed away," Tawil said of Greenhois.
"I, as a Zionist Druze, think it's a great honor to take part in such a project," she added.
Also at the cemetery was Ami Ben-Nesher, who came to visit the grave of his brother Eitan, who was also killed in 1948. "He was in the Palyam, the Palmach's sea force. They left Caesarea to Jaba', which is Geva Carmel today, in order to damage vehicles of the Arab gangs. They hit a truck they planned on sabotaging, but while they were withdrawing he was killed. He asked them to leave him and save themselves. When we got his body back, it was hard to identify him," Ami recounted in pain.
Yoav Zitun, Ahiya Raved, Yishai Porat, Adi Rosenberg and Itay Blumenthal contributed to this story.