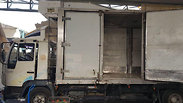 The truck
Photo: Defense Ministry Spokesmanship
A powerful explosive device was discovered Wednesday aboard a Palestinian truck attempting to pass through the northern West Bank's Reihan crossing.

The Defense Ministry said security inspectors from the Land Crossings Authority located the device secreted in the roof of the truck, which was also carrying goods intended for Israeli settlements on the Seam Zone.

Footage of the searched truck (צילום: דוברות משרד הביטחון )

The device was comprised of several improvised pipe bombs, and did not appear to have been put together by any organized terror group.

The truck driver was interrogated by Shin Bet Wednesday evening and his motives were being examined. His relatives are also expected to be questioned overnight.

Palestinian truck drivers know they will be subject to searches when passing through the main crossings from the Palestinian Authority to Israel, as was the case with Wednesday's incident.

Acting head of the Land Crossings Authority Erez Sidon extolled the actions of the crossing's inspection team, and their work in conjunction with police sappers.

"I'm proud of the security inspectors, who acted exactly as we expected them to, starting with recognizing the suspicious truck and ending with noticing the smuggling attempt—which turned out to be an explosive device."

The device was apparently to be used in a terror attack during Independence Day, Sidon added.

Police sappers have been rushed to the scene to deal with the device.

Defense Minister Avigdor Lieberman also commented on the device's discovery, saying, "The alertness and professionalism of the Land Crossing Authority's people has led to charge's discovery and the foiling of a large attack planned for our 70th Independence Day."

"We shall find the contemptible people who sought to hurt us on our holiday. They will not know day from night until we lay our hands on them," he threatened.

Wednesday's incident came on the backdrop of already high tensions in Israel in light of the strike on the T-4 Airbase in Syria, attributed to Israel by foreign sources.

Nevertheless, the IDF has upped its readiness both on the ground and in the air in the northern region for fear of Iranian reprisal.

The elevated level of readiness also included public and back-channel warning messages directed at Tehran over the past few days, in addition to the bolstered force deployment.

IDF outposts on the country's northern frontier, consequently, also saw heightened alertness out of fear of a revenge attack in the form of antitank fire, terrorist infiltrations or explosive devices.

Another significant scenario taken into account in the IDF's preparation has to do with a salvo of rockets fired by Iran from its Syria bases towards a central Israeli city.