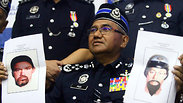 Malaysian police present photofits of suspected assassins
Photo: AP
Malaysian police release photofits of suspects in Hamas engineer's killing
Police inspector general says facial composites compiled based on eyewitnesses' testimonies; according to Malaysian reports, the two suspects behind Fadi Albatsh's mysterious assassination on Saturday are well-built, fair-skinned men, approximately 180 centimeters tall.
Malaysian police on Monday released facial composites of two suspects behind the mysterious assassination of Hamas electrical engineer Fadi Albatsh in Kuala Lumpur on Saturday. The pictures were distributed by the authorities at all of the country's exit points.

Mohamad Fuzi Harun, inspector general of the Royal Malaysia Police, said the photofits were compiled based on eyewitnesses' testimonies.

"We have experts who say the facial composites match the eyewitnesses' testimonies, but we can't reveal any additional information."

According to the Malaysian police's description, the two suspects are well-built, fair-skinned men, approximately 180 centimeters tall, and it is still uncertain whether they are still in the country or left after the assassination.

The inspector general added that the two suspects were believed to be of European or Middle Eastern descent.

"We retrieved 14 bullets from the victim's body and sent them to our weapons experts here for an analysis," he said.

He added that no threats had been made against Albatsh's family, but said police may ask to take a statement from his brother, Dr. Rami Albatsh, who arrived in Malaysia earlier Monday morning.

According to Malaysian reports, 35-year-old Albatsh was gunned down by two assailants who shot at least eight bullets from a motorbike as he was heading to a mosque for dawn prayers in Kuala Lumpur. Malaysian police said closed-circuit television footage showed him targeted by assassins, who had waited for him for almost 20 minutes.

Hamas said Saturday Albatsh was one of its own "loyal" members, describing him as a "shahid (martyr) who was characterized by his excellence and scientific creations. He made important contributions in this field. He participated in international conferences in the field of energy. The shahid set an example by growing closer to Allah and in his activity for the Palestinian issue."

Hamas stopped short of blaming Israel, saying only that he had been "assassinated by the hand of treachery." But media affiliated with Hamas claimed Albatsh was "assassinated by the Mossad."