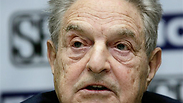 George Soros. 'He swore he would never hide again'
Photo: AP
Why they hate George Soros
The Hungarian-American business magnate and philanthropist is loathed by many around the world. He is hated for the causes he supports, he is hated for his opinions, he is hated because of his money, he is hated for being Jewish—and he is hated for all the same reasons in Israel too. 'We are being used,' his son, Alexander, tells Yedioth Ahronoth. 'We are the excuse for every crisis, for every error, for every corruption scandal.'
BERLIN—I met George and Alexander Soros in Berlin early last week, at a conference held by an international organization which has them on its board of trustees.

George Soros, 87, is a Hungarian-born Jew, a Holocaust survivor and a billionaire who once ranked 22nd on Forbes magazine's World Billionaires List.

He is a very generous philanthropist. The Open Society Foundations (OSF), an international grantmaking network founded by Soros, has donated $14 billion so far to different programs and individuals in 43 countries. It's the second largest family foundation in the world (the largest is Microsoft Corporation founder Bill Gates' foundation) and the largest political foundation. It grants a total of $1 billion a year.

This makes George Soros the most hated man in the world—hated because of the causes he supports, hated for his opinions, hated because of his money, hated for being Jewish, and hated for all these reasons in Israel too.

Several months ago, I asked him to give Yedioth Ahronoth an interview. He thought it over and eventually suggested that I interview his son, Alexander.

Alex, 32, is Soros' son from his second marriage to American historian Susan Weber. George serves as OSF's chairman and Alex is vice chairman.

Soros has been married three times and has five children—three from his first wife and two from his second wife, who is also Jewish. Alex was his first son to celebrate a bar mitzvah. He says that after the ceremony, his father asked to talk to him. "If you're serious about being Jewish, you might want to consider immigrating to Israel," he said.

While Alex did not make aliyah, he has visited Israel several times. He invested (and lost) money in Israeli companies and he founded his own philanthropic foundation, which grants millions of dollars to Jewish organizations, including J Street. (Soros Sr. has invested large sums of money in the Israeli high-tech industry, including in companies like Indigo, Teva and Allot Communications).

The Soros' donations go to organizations that preach human rights, democracy, transparency, freedom of speech, supporting minorities and fighting tyranny and corruption. In other words, left-wing organizations. That explains the hatred, but it doesn't explain the extent of the hatred.
Head of the 'Jewish mafia'
Hungarian Prime Minister Viktor Orban based his last election campaign on huge posters featuring George Soros' laughing face, accusing him of being part of a dark plot to destroy Christian Hungary. A parliament member representing Poland's ruling party referred to Soros as "the most dangerous person in the world." American radio show host Alex Jones, whose conspiracy theories are often quoted by US President Donald Trump, announced that "the head of the Jewish mafia is George Soros." Right-wing politicians in Europe have called for a global "de-Sorosization." OSF's activity has been banned in Russia. A hate campaign was launched against the foundation in Italy over its support for refugees, an emotionally-charged issue in the country. Soros is described as a monster in Romania, Macedonia, Croatia and Belarus, as well as in America.
"We are being used," Alex Soros told me. "We are the excuse for every crisis, for every error, for every corruption scandal."
In Israel, Knesset Member Miki Zohar (Likud) came up with the "Soros law," aimed at terminating the foundation's activity, Prime Minister Benjamin Netanyahu described Soros as an enemy of Israel, and the prime minister's son posted a sickening anti-Semitic cartoon starring Soros on his Facebook page.
What do you think about Yair Netanyahu's post, I asked.
Alex gave a bitter smile. "It seems Yair Netanyahu hasn't learnt a thing from history," he said. "A Jew who embraces such a cartoon has no sense of solidarity with his people; he hurts every person who appreciates freedom and tolerance."
How have you dealt with the waves of hatred towards your father, I asked.
"Since I was a child, I realized that—beyond all political reasons—the attacks against my father have an anti-Semitic tone," he said. "I read what they said about him in Hungary. They described him as the creator of an international Jewish plot. All the Elders of Zion and the Protocols in one man, in my father. They asked how dare this man come to central and Eastern European countries and dictate norms to them; who is this immigrant fighting against the discrimination of Muslims in America. They stepped up the attacks on him because they saw how influential he was."
Have you ever supported a right-wing association, I asked.
"Of course," he replied. "We helped centrist-rightist organizations in European countries that introduced a democratic regime after the Communist government's fall. We offered grants to right-wing people in the Balkans."
Do you oppose any military operation, I asked.
"No," he said. "We were in favor of NATO's military intervention in Kosovo. Our foundation worked with the army in Afghanistan. We fought against the religious discrimination of Muslims, but the war on al-Qaeda and ISIS is a different thing."
No opposition, no future
Your father and Trump belong to the very small circle of New York-based billionaires, I said. How were the relations between them?
Soros smiled. "You know Donald Trump is the son of a rich father, who was raised on money since he was a child," he said. "I grew up in wealth too. My father would jokingly warn me when I was a child, 'Don't be like Trump.'
"There was a time when Trump suggested that my father rent offices in one of the buildings bearing his name. He thought my father's name would attract more tenants. 'You set the price,' he said, and my father refused. Like everyone else in New York, my father knew that Trump was a chronic bankruptcy filer who marketed himself to the public as a success story. My father didn't take Trump seriously."
In the 2008 presidential election, Soros donated a large sum to Barack Obama. He favored him over Hillary Clinton. In the 2016 election, he was one of Clinton's biggest donors. He favored her over her left-wing rival, Bernie Sanders. The money was donated from his personal fortune, not from the foundation's coffer.
Governments in central and southern Europe are fighting you over your support for refugees and migrants, I said. Russia has no immigration problem. Why have you been outlawed by (President Vladimir) Putin?
"Our activity in Russia started off on the right foot," he said. "After the Soviet Union's collapse, my father established a branch of the foundation there. He came up with a Marshall Plan for Russia, a wide-scale plan to rebuild the country with Western finding. The American administration showed no interest, and the plan failed. My father was accepted by Russia also thanks to his support for Andrei Sakharov and other dissidents in the Soviet era.
"That all ended when Putin shut the Russian society against. My father chose to openly attack Putin, and that was the turning point. In addition, my father opposed Putin's occupation spree in Ukraine. And there was another point: Khodorkovsky, the oligarch who tried to fight Putin, saw my father as a role model. Putin never forgave him."
Hungary took things even further. Soros initiated the establishment of the Central European University in Budapest and invested $250 million in it. The university's official language is English, the degrees are American and the values are liberal, Western. The lecturers included Israeli professors like Yehuda Elkana and Shlomo Avineri.
"Hungarian Prime Minister Viktor Orban plans to shut it down," Alex Soros told me. "We have been given a one-year extension, but the intention is clear: He want to ban the university from granting American degrees and lead to its closure."
The foundation is still active in Hungary, but Orban won a large majority in parliament with a law forcing its employees to register as foreign agents. The law also imposes a 25-percent tax on NGOs that receive donations from the foundation, and they will be banned from working with migrants.
"People ask my father, 'Why do you invest so much money in a county that has persecuted and is persecuting you?'" Alex said. "He replies, 'I want to help those who suffer and are deprived in that country.' That's what Jewish tradition has taught him—a personal fortune can't replace values."
Orban won a crushing victory in the elections, I said. The Hungarian people are with him, not with your father.
"I don't think he won because of his attacks on my father," he said. "There is no longer an opposition in Hungary, there is no free media. There is no future for young people, and they are leaving the country rapidly."
Why, I asked, has Orban gone to the trouble of waging a campaign against your support for migrants. There are very few refugees from Muslim countries in Hungary.
"Because he stopped acting rationally," he replied. "He went mad, he became a maniac."
Orban was one of 3,200 Hungarians who received scholarships to study abroad from the Soros foundation. Some say his hatred for Soros is driven by the scholarship he received. He is biting the hand that fed him.
Netanyahu, I said, was asked about the posters against your father when he traveled to Budapest in July 2017. During the visit, the posters were removed from the billboards.
"The Israeli Embassy in Budapest condemned the anti-Semitic attack on my father," said Soros. "Netanyahu did things differently. Following the embassy's statement, the Foreign Ministry spokesman issued a clarification statement, saying that my father 'undermines Israel's democratically elected governments and funds organizations that seek to deny Israel the right to defend itself.'
"In spite of Orban's anti-Semitic campaign, Netanyahu invited him and his colleagues from Poland, Slovakia and the Czech Republic to hold one of their next meetings in Israel. I was very disappointed by that. I was disappointed by the Israeli prime minister's cynical conduct, his failure to help Jews and to stand behind them. This isn't Israel, this is Netanyahu. His ties with radical right-wing, anti-Semitic and corrupt elements contradicts Israel's commitment as a Jewish state."
Mostly unfounded hatred
"My father is completely different from the image people have of him," Alex said. "They think he's an insensitive, solemn person, who analyzes everything rationally. I know a different Soros. He's much more sentimental than people think. The experience that led him to philanthropy was his life as a teenager during the Holocaust. The war in the Balkans reminded him of his days during the war."
I was first introduced to Soros' power in the Yugoslav Wars, in the 1990s. Sarajevo, the Bosnian capital, was under a heavy siege. The only entry route I found was a jeep that somehow managed to bring medications and medical equipment to the city. The Joint Distribution Committee, the Jewish aid organization, was involved; Soros was the funder. We entered the city under shelling.
People used to say at the time that when the war ended, Soros would win all the reconstruction contracts. That didn't happen. The motive was political and humanitarian. Soros did his business elsewhere.
George Soros is one of the prominent figures in the International Crisis Group, an organization that investigates global ocnflicts and recommends ways of dealing with them. As part of this organization, which I am also a member of, I got to chance to listen to his estimates in recent years. He analyzes the international arena with a sharp, sober scalpel, lacking any sentimentality. His recommendations are deeply rooted in action. He is a businessman, not Che Guevara.
What does your father think about the attacks against him, I asked. Isn't he alarmed?
"He only enjoys it," Alex said. "His character was shaped during the war. There are Jews, in my family too, who still live in hiding. They're afraid. My father swore he would never hide again."
Alex usually sits next to his father during meetings, his fingers dancing on the computer keyboard. Like people his age, he shaves every three days. He has a slim and youthful figure. He sometimes considers his words carefully but has a proper doctrine.
Unlike other people in his position, he works hard: Apart from his work in his father's foundation and in his own foundation and his business involvement, he is completing his PhD at the University of California, Berkeley. The gossip column of the New York Post, Rupert Murdoch's newspaper, has published several stories depicting him as an unmarried partygoer, a man about town. Alex says the stories have been blown out of proportion to harm his father.
What does George Soros think about Israel, I asked.
"He thinks Israel has a right to exist," he replied.
That's not much, I said. Does he care about Israel?
"If he didn't care, he wouldn't have advised me at the time to immigrate to Israel," he said. "My father would like to see Israel in Yitzhak Rabin's image. His views are more or less the common views in Meretz and in the Labor Party. We support a two-state solution."
You have helped fund organizations like J Street, which worked in America for the approval of the nuclear agreement with Iran, I said.
"Yes," he replied, "we have helped organizations that worked for the agreement's approval. What's wrong with that? Many of the heads of Israel's security organizations shared the same opinion."
I have read the investigations about you conducted by right-wing bodies in Israel, I said. I have spoken to Itai Reuveni from NGO Monitor, who studied you thoroughly. He says the big problem in investigating your foundation's activity in Israel is lack of transparency. It's possible that some of the NGOs enjoying your funds support the BDS movement.
"In my opinion, the call for boycott and divestment of Israel is wrong," Soros said. "This movement is trying to follow in the footsteps of the South African precedent. Israel is a different story. I believe the occupation is bad, but we can't hold every Israeli accountable for the occupation."
What are your red lines, I asked. When do you stop supporting an organization or an association?
"We don't support terror organizations," he said. "We don't support organizations that call for violence. We support Al-Quds University, although the American administration has stopped supporting it, arguing that some of the students support Hamas. We are in favor of academic freedom. We wouldn't boycott an American university if it turned out that some of its students were anti-Semitic.
"Personally, I prefer to help organizations that foster democracy and support the two-state solution, but you can't remove other organizations from the public discourse, especially if they aren't violent."
The foundation's regional office is located in Amman and is run by a Palestinian jurist who studied in the US. The foundation doesn't have an office in Israel. It lets the regional office decide who is worthy of funding. It has no way of supervising comments made by those who receive its funds.
According to a rumor circulated via social media, the foundation supports African refugees' struggle against the deportation. It's true that the foundation has been active in this area in Europe, but not in Israel. I asked foundation officials to specify how much money it invests in Israel and in the territories every year, and who receives the funds.
The answer surprised me: The foundation is investing only $3 million in Israel and in the territories in 2018. Compared to the funds remitted to Israel by right-wing foundations, this is a ridiculous sum. It's also ridiculous compared to the $1 billion the foundation spends around the world every year. Miki Zohar and Yair Netanyahu can calm down: Their hatred is mostly unfounded.
Who enjoys the money, I asked. The Al-Quds Bard College for Arts and Science in east Jerusalem tops the list. Al-Quds University's Arts and Science Faculty signed a comprehensive partnership with Bard College in New York.
Second on the list is Adalah, a legal center founded by Israeli Arabs; third is Al-Haq, a Palestinian human rights organization; and B'Tselem is fourth. This isn't the most shocking list I've seen in my life.
Alex Soros doesn't rule out a change of direction.
"I may increase our activity in Israel," he said. "If Sheldon Adelson can invest in Israeli politics, so can I. I'm young. I'm open to a change of policy."
'The world is in danger'
It's possible, I told him, that you're not the story. You invest $1 billion every year in Tikkun Olam ("repair of the world"), but the world doesn't want your repair.
"I certainly hope that isn't true," he replied. "We're in a war. If we don't fight, if we don't take risks for our values, catastrophe will come. Every generation must fight for its values all over again.
"When Trump was elected, I wasn't surprised—I was sad. Since Trump's election, I have been waking up every morning and saying to myself, the world is in danger. I have to do whatever I can to prevent that danger."