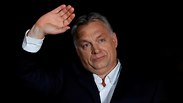 Viktor Orban
Photo: Reuters
Hungary says EU's 'irresponsible' migrant policy poses threat to Jews
Nationalist PM Viktor Orban says irresponsible open-door EU immigration policies responsible for intolerance, anti-Semitism in Europe, threat to 'Judaeo-Christian traditions'; Campaign vilified George Soros for 'trying to turn Hungary into an immigrant country.'
Hungarian Prime Minister Viktor Orban's office said on Monday an "irresponsible" migration policy on the part of the European Union had stoked religious intolerance in western Europe that was threatening Jews there.

His office issued a statement a week after Orban was re-elected by a landslide to a third straight term with a fierce anti-immigrant campaign that vilified Hungarian-born, Jewish-American tycoon George Soros for promoting liberal open-door values in Hungary and elsewhere in central and eastern Europe.

The right-wing nationalist premier has presented himself as the savior of Hungary's sovereignty and Christian values against what he calls an "invasion" of Muslim migrants. His office used the occasion of Hungary's Holocaust Remembrance Day to reiterate its strong criticism of EU migration policies.

"There is only one way to counter worryingly strengthening anti-Semitic phenomena...Europe must return to its values stemming from Judaeo-Christian traditions," Orban's office said.

"The religious intolerance that threatens Europe - which is a direct consequence of the irresponsible migration policy of Brussels - has translated into unprecedented violence in the western half of the continent," it said, alluding to a number of deadly Islamist militant attacks since 2015.

Orban has repeatedly pledged zero tolerance of anti-Semitism. But some comments he made last year rattled Hungarian Jews, including praise for Miklos Horthy, Hungary's wartime Nazi-allied leader who only suspended deportations of Jews in 1944 after half a million had been sent to the gas chambers.

Orban has also played up the idea that "external forces and international powers" like the EU, which Hungary joined in 2004, and the United Nations want to meddle in internal Hungarian affairs and force the country to accept migrants.

He has said his government's policy of rejecting migrants also serves the interests of European Jewish communities.

However, Orban has drawn strong western EU and US criticism for drafting so-called "Stop Soros" legislation that would slap a 25 percent tax on foreign donations to NGOs that the government says back migration in Hungary.

Orban told state radio last month activists were being paid by Soros to "transform Hungary into an immigrant country". Soros has rejected the campaign against him as "distortions and lies" meant to create a false external enemy to distract Hungarians.